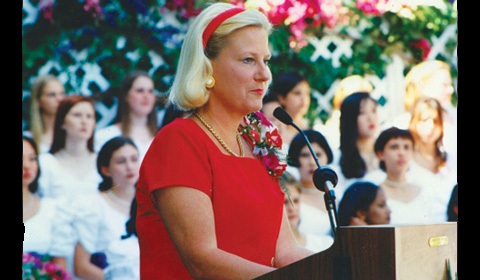 After 25 years as Head of School, Barbara Wagner will leave Marlborough having led the School through significant transformations. Wagner spearheaded a renewed focus on the distinctive qualities of all-girls education, multiple renovations of the campus and an increase in the diversity of Marlborough's student body. Members of the School community remarked that Wagner will be remembered for her warmth and positive nature, as well as her accomplishments.
When Wagner arrived at Marlborough in 1989, she served as Director of the Upper School for one year. She said that she had apprehensions about applying for a job in an all-girls environment, but spending time with students during her campus visit more than dispelled her hesitation.
"I really just fell in love. I just thought it was the greatest place. I thought the girls were amazingly confident and smart and articulate, and I wanted to be here," Wagner said.
She signed her contract with the School within 24 hours of her visit and one year later became Marlborough's eighth Head of School in 1990, the School's first female Head in 25 years.
"I thought she was a breath of fresh air for the School," Assistant Head of School and Head of Upper School Laura Hotchkiss '86 said. Hotchkiss returned to Marlborough to teach in 1992. "I was really excited for this transition to a woman as our Head of School."
Before joining the Marlborough administration, Wagner had never worked at a high school. Wagner previously worked as a music instructor at the grade school and university levels. At Graland Country Day School in Colorado, Wagner also served as Head of the Middle School and Assistant Head and Interim Head of School.
Wagner said that, from her earliest days on campus, she wanted to see the Marlborough community embrace all-girls education.
"It did not seem crystal clear to me that [Marlborough was] really proud to be a girls' school, and so when I became Head of School, that was one of the first things that we talked about," Wagner said. "I wanted to say, 'What things do girls need?'"
Wagner said that she recognized an opportunity to promote Marlborough's dedication to girls' education following the announced merger between Westlake School for Girls and Harvard School for Boys in 1989. Her initiative coincided with a 1992 study by the American Association of University Women titled "How Schools Shortchange Girls," which found that girls did not receive equal academic and leadership opportunities in co-educational settings.
Wagner led efforts to tailor the Marlborough experience toward girls' style of studying and leading. The science classroom renovation in 1992 provided an immediate platform for discussion. Wagner said that the School found that girls learn best when they work together. Accordingly, the new labs featured an open floor plan with a U-shaped arrangement of lab tables in order to promote collaboration.
Hotchkiss, who said she exhausted the science curriculum as a Marlborough student, said she has witnessed a growth in academic opportunities.
"I think it was clear early on that math and science were something that the School was going to dedicate more resources to," Hotchkiss said.
Marlborough strengthened its academic offerings under Wagner, including in the science department. The School now offers more Advanced Placement courses and the Leonetti O'Connell Honors Research in Science and in Humanities and added computer science classes this year.
School Archivist Peter Chinnici, who arrived at Marlborough the same year as Wagner, said that the changes to the School's academic offerings during Wagner's headship helped elevate the School's reputation.
"Prior to Ms. Wagner, I think Marlborough was an important independent school in California. I think because of her leadership, it's become an important independent school in the U.S.," Chinnici said.
From her earliest days at the School, Wagner envisioned upgrading the School's facilities in an effort to offer girls the best learning environment possible. Chinnici said that, in 1989, Marlborough's campus was around two acres. Following completion of the Arden Project, the campus will comprise close to four acres. In addition to the construction of the science classrooms, Marlborough added Booth Field in 1999 and built Munger Hall—which includes the Academic Resource Center and visual arts facilities—in 2009. Wagner said that the Arden Project, for which construction begins this summer, was one of her earliest long term goals.
Incoming Chair of the Board of Trustees Michael Gendler said that the Arden Project initiative is a testament to Wagner's leadership.
"She's a charismatic leader whose enthusiasm and belief in what she's doing gets people on board and gets people to follow," Gendler said.
In addition to leading academic and physical changes to the School, Wagner has been at the forefront of cultural changes at the School. Wagner stressed the importance of diversity over the past two decades, and the student body has become significantly more diverse.
"The board felt, and I certainly supported, that the School needed to be much more inclusive and diverse. But that was a very, very big challenge," Wagner said.
Wagner recalled that her decision in the early 1990s to add days off for the Jewish High Holidays received some backlash in the School community.
"That's one example of a decision that I felt was the right one, but it was a difficult one at the time," Wagner said.
English instructor and Co-Chair of the Diversity Committee Chris Thompson, who began teaching at Marlborough in 2009, credited Wagner with making the aspiration for a diverse community a reality.
"Ms. Wagner knows how to make a school work so that an idea turns into action, turns into a program, turns into a change…The fact that she can get things done that she does here is actually amazing. Anyone who's ever taught anywhere else notices that right away," Thompson said.
Art history instructor Lu Wenneker, who has taught at Marlborough since 1983, voiced that Wagner's enthusiasm is key to her effectiveness as Head of School.
"I've never seen anyone who had so much tremendous energy and who is always thinking positively," Wenneker said. "At the end of the day, she's just as full of energy and get up and go as she is early in the morning."
Members of the community said they valued Wagner's devotion not just to the School but to students and employees.
"Not only is she very friendly and approachable, but she also can make you laugh," Mia '16 said.
Many remarked on Wagner's school spirit and eagerness to participate in the community. Wagner sends baked goods to all sports teams who qualify for the playoffs, attends student productions and participates in School concerts. Her Pumpkin Day costumes provide a light-hearted highlight each year.
Wagner emphasized that she will carry the Marlborough community with her after she leaves the School.
"It's a fabulous, fabulous school, and I just feel blessed to have been here," Wagner said.
Wagner said that she does not yet know what she plans to do in the future but envisions herself working again soon in education.
"I want to do something that has meaning and where I can give back whatever talents I have," Wagner said.