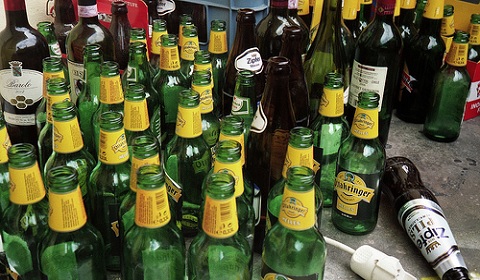 In her article, "Lowering the Drinking Age to Eighteen would Benefit Young Adults," Michaela Alis argues that the United States is the only developed nation with a minimum legal drinking age above 18, with Europe as her example. However, she fails to mention that in Europe illegal drinking begins as early as ten years old, leading to risky behaviors, health consequences and traffic fatalities. Drinking rates among America's youth are lower than those in Europe as are alcohol-related traffic fatalities. The health consequences of drinking at a young age indicate that the minimum legal drinking age should remain at 21.
During the late 1960s and early 1970s, many states lowered their drinking ages to 18 in response to the argument that 18 was the age at which citizens could vote, marry or go to war. This change in policy caused alcohol-related traffic fatalities to increase among young people by 17 percent, according to the National Highway Traffic Safety Administration. As a result, in 1984 Congress withheld highway funds from any state with a minimum legal drinking age below 21. Since that time, alcohol-related traffic deaths have been cut in half, with the greatest decline among 16-20 year olds. Drinking rates among high school seniors have also seen a 20 percent decrease. If alcohol were made available to high-school students again, drinking rates would increase, and so would alcohol-related traffic fatalities.
If the minimum legal drinking age were placed at 18, the range of underage drinkers would be 13-17 year olds. Studies show that young people drink both before and after reaching 21, despite the minimum legal drinking age being placed at 21 years. Underage drinking is currently highest among 16-20 year olds. European countries with drinking ages set at 18 and 19 report higher rates of intoxication and binge drinking among 13 year olds. The National Institute of Health reports that those who start drinking in middle school face higher rates of medical problems such as disruption of normal growth, memory problems and changes in brain development, than those who begin drinking after 20. The Center for Disease Control and Prevention's statistics show that those who begin drinking before 20 are four times more likely to develop an alcohol dependency than those who begin drinking after.
Lowering the drinking age to 18 would also allow more of the population to frequent bars and nightclubs, which are unsafe environments. 76 percent of nightclubs have sold alcohol to intoxicated patrons. 50 percent of drunk drivers consumed alcohol at licensed establishments. Areas with higher densities of alcohol-selling establishments have 40 percent more violent crime, as stated by the National Council on Alcoholism and Drug Dependence. Increasing the patronage of bars and nightclubs would be a danger to public safety.
Most underage alcohol-related traffic fatalities caused by underage drinkers are due to teens not wanting to adults to know of their illegal activity. These teenagers fear punishment by asking for a ride home and revealing that they've been drinking. Consequently, they opt not to ask for help and drive drunk instead, causing traffic accidents. Contrary to Michaela Alis's hypothesis, lowering the drinking age would not diminish the desire for secrecy when drinking. 16 and 17 year olds with access to vehicles would still be under the minimum legal drinking age and would continue to engage in activities that put themselves and the public at risk while inebriated.
Lowering the minimum legal drinking age of the United States of America would not only create a culture where alcohol use begins at a younger age but also put American youth and society at risk.