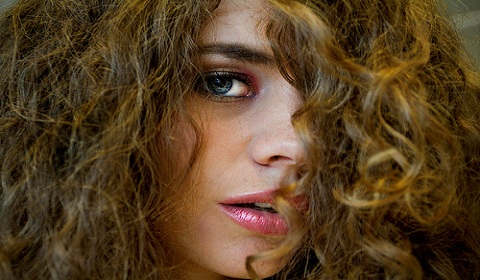 Do you have curly hair and don't know what to do with it? Here is a simple list of tips, techniques and products that can transform your once-frizzy mop into a beautiful head of defined curls:
1.     Do not wash your hair everyday. Doing so will dry out your hair and possibly make it oily. Try to wash it no more than every other day. If your hair is thick, you may even be able to go three or four days without washing it.
2.     Use any type of shampoo and conditioner you like. Here are some suggested brands, but all are fine: Deva, Batia and Aleeza, Terax, Tresemmé. The key is to not fully wash out your conditioner on the ends of your hair. Be sure your scalp area is fully rinsed, but leave just enough in the rest of your hair so that it still feel silky as you run your fingers through it. By leaving in a little conditioner, your hair has more weight and will not become frizzy as easily.
3.     When you get out of the shower, brush through your hair with a comb, brush, or just your fingers. You can part it or slick it back and allow it to fall naturally into a part as it dries. Do not put your hair up into a turban with your towel. This will flatten out the top and take away from your curls. Just comb through your hair.
4.     Once you have combed through your hair, take a little more than a quarter size (more or less depending on how much hair you have) of a product like Mixed Chicks leave-in conditioner or Deva's leave-in product, mixed with Batia and Aleeza Sculpting Gel and put it in your hair as if you were conditioning your hair in the shower. Since gel is watery, you may need to repeat the process a few times so that the gel does not just run out of your hand. Be sure you get a substantial amount of gel in your hair. The sculpting gel is a lightweight product that drastically minimizes your frizz and helps define curls.
5.     After putting the leave-in conditioner and the sculpting gel in your hair, brush through it one more time. Then flip over so you are looking at your knees and your hair is hanging toward the floor. Take a t-shirt and scrunch your hair in it. This will soak some of the water out of your hair as well as help the curls form. Always use a t-shirt instead of a towel because the t-shirt material absorbs much more water than a regular towel and won't take away from the crispness of your curls.
6.     Once you have put the products in and scrunched your hair, you can either let it dry naturally or blow-dry it with a diffuser. When blow-drying, flip your head upside down as you did when you dried your hair with a t-shirt and blow-dry it from there. When you flip your head back up, your hair will have much more volume than if you blow-dried it right-side up.
7.     If you put enough product in when it is wet, you should not need to put much in when it is dry. However if you feel there are too many fly-aways or you just need a little more curl control, you can generously spray in a product such as Oudiad's Botanical Boost or rub in something like  Moroccan Oil's Styling Cream and scrunch your hair up. You can also put some more Batia and Aleeza Sculpting Gel in, but do not put too much in because your hair could become crunchy when the gel dries.
Follow these steps and your curls will look better than ever! If you have any questions about haircuts, products, or techniques, feel free to email me at [email protected]. I have found these methods to make my hair look the best it can and I hope you do, too.