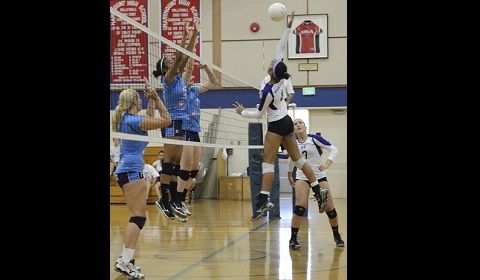 Only three years after first trying the game, Elliott '16 played this fall at the middle blocker position as the only freshman on Marlborough's Varsity Volleyball regular season roster.
With her exceptional play coinciding with a senior blocker's sidelining injury, Elliott garnered a starting spot on the team, which lacked a dominant presence at the net.
Entering preseason over the summer, Elliott said that she aspired for a spot on the team.
"I wanted to make Varsity at the beginning. I know it was sort of a far fetched goal, but I worked hard to make it," she said.
Elliott's dedication and effort translated into her performance on the court during J Period conditioning and tryouts.
Abigail '16, who played alongside Elliott during the preseason, praised her athletic grace and blocking ability.
Despite the disparity between Middle School and Upper School competition, Elliott's performance did not suffer from the pressure. Both students and Varsity Volleyball Coach Shari Sakamato commended her defense at the net and her spikes on the attack.
"She exceeded my expectations. I can't even tell you. For an individual who last year was on the 8th Grade team, she definitely rose up to the fast pace of the Varsity games and did a fantastic job," Sakamato said.
In addition to her tangible contributions to the team's wins, reflected on the scoreboard, Elliott's coach and teammates agreed that one of the most valuable elements of her game was her upbeat energy.
"She always had such a positive attitude. She was always so excited. She brought so much energy," teammate Alex '14 explained. "Especially if we were losing, she would always be able to help us get back on track."
Prior to this season, Elliott had never played with any of her teammates. as they are all upperclassmen. However, Alex said that Elliott's amiability allowed her to overcome the age barrier in befriending her teammates.
"It was awkward at the beginning, but I ended up making friends in the Upper School," Elliott added.
Abigail also observed that Elliott "fit right in, laughing with all the seniors."
After earning her Varsity letter, Elliott must wait until next fall before she can once again represent the Mustangs on the volleyball court in hopes of a California Interscholastic Federation Southern Section Division 1-AA title.
This past fall, the team finished in second place in the Sunshine League.
"I am looking forward to crushing balls, being a big scorer and playing with the girls again. We will have a fresh new start at the CIF Championship," Elliott said.