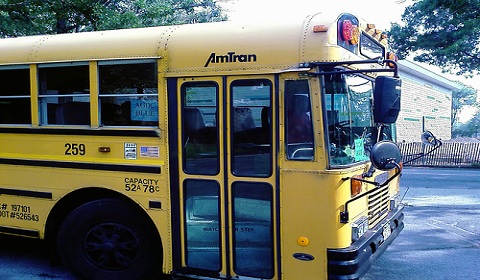 Looking for an after-school adventure?  Consider hopping on the Marlborough buses: a great way to get around Los Angeles. If you already take the bus, your parent or guardian can call or e-mail Auxiliary Services Manager Clinton Oie to ask for a bus transfer to any other route, which you can pick up from the Student Store or Reception. If you do not already take the bus but want to try it out, you can get a bus pass for 15 dollars from the Student Store if your parent or guardian lets Oie know before hand.
Here is my guide to making the most of the Marlborough buses:
After a stressful day, you might want to take the South Bay bus (Route 8) to the Manhattan Village Mall for an afternoon of trying free samples at Bath and & Body Works and Sephora. You might also like to pop into the Apple store to try the new iPad mini.
If you are looking for a quiet place to spend the afternoon with a book, I recommend taking the Palisades bus (Route 9) and getting off at the Palisades library. After you finish your book you can take a walk around the Palisades Village. I suggest stopping at Toppings Yogurt and getting 3,748,403 cups so you can try all of the possible combinations of yogurt and toppings.
If you take the Westside bus (Route 10) you can get off at the Beverly Hills Hotel, the big pink hotel on Sunset and Canon, for afternoon tea at the Polo Lounge . Who knows which celebrity you might see having a martini! You could also bring your roller skates or a soccer ball and get off three stops later at UCLA (Sunset and Bellagio) and spend the afternoon in Franklin D Murphy Sculpture Garden.
When you are in the mood for a delicious sandwich or pastry but are tired of Larchmont Wine & Cheese, I recommend taking the Brentwood bus (Route 11) and getting off at Barrington Court on Sunset and Barrington. Belwood Bakery makes amazing sandwiches and they have the best pan au chocolat.  Right across the street is the Archer School for Girls, so if you're feeling mischievous…
The Pico bus (Route 12) will take you straight to Cheviot Hills Rec Center and Park, which has tennis courts, a baseball diamond, basketball courts, an archery range and, in the summer, a swimming pool. If you aren't in the mood to play sports but want to visit or volunteer to help some super cute dogs and cats that need homes, you could get off at Pico and Sepulveda and walk two blocks west to the West Los Angeles Animal Shelter.
Have a big group of friends you want to do something fun with for the afternoon?  Hop onto the Valley bus (Route 13) which will take you to Ventura and Hayvenhurst, a few blocks from Ultrazone Laser Tag. Spend a few hours shooting each other and then get a burger at The Habit right downstairs.
If you are in the mood for visiting some classic pieces of art or just need a really good place to do Gangnam Style (as the wide-open spaces in museums are the perfect place to dance!), the Pasadena/Los Feliz bus (Route 14) drops off right in front of the Norton Simon Museum of Art.
For dessert, take the 26th Street bus (Route 15) and get off at the Brentwood Country Mart on 26th and San Vicente.  Here you will find one of my favorite ice cream shops in Los Angeles: Sweet Rose Creamery. All of their ice cream is homemade in small batches. Some of their flavors are really exotic — I had Sweet Corn once — but, don't worry, they have your traditional flavors too.
Now that I have helped you find fun ways to spend your afternoons, I just want to make it clear that I am not responsible for any trouble you get into on your adventures, or for finding you a way home.
Happy travels!