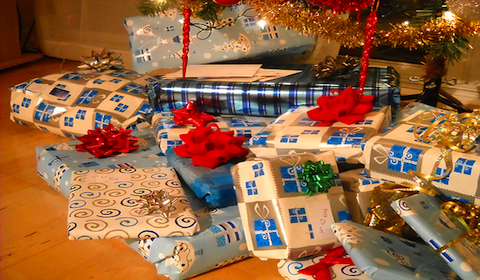 Every holiday season, I try to give back in some way, for these winter months are truly about giving, not receiving. For the last three years, my family and I have participated in a program connected with Children's Hospital called Holidays from the Heart. We "sponsor" a low-income family that has a child at Children's Hospital, receive their holiday wish lists, shop for the gifts they request, and wrap them. Then, we can either drop off the gifts anonymously at the hospital or go to their house to deliver their holiday presents.
The wish lists the families send often give me a pitiful feeling. There are no extravagant gift requests for pets, game consoles, and the latest Apple products; these wish lists contain basic necessities like socks, blankets, bed sheets, and bus tokens. This year, our family is asking for a grocery card, school uniforms, and art supplies.
In past years, we chose to deliver the gifts in person. We thought about this very carefully as we didn't want the family to feel uncomfortable. But after trying it once, I felt as though the human connection we made with each other was memorable and rewarding for all of us. For me, the family visit has always been the most touching and eye-opening part.
The first year, we visited three kids and their father who lived in a two-room basement type space—the mother was in jail. One of the girls mentioned on her list that she liked Dora the Explorer, and we were excited to bring her a large Dora themed indoor playhouse. I felt badly when I realized it was too big to fit inside their home—but the kids didn't seem to mind, as they propped up the playhouse outside. When we brought the gifts into the house, the father started crying and the kids started jumping with joy screaming, "Christmas gifts!"
Last year, we brought gifts to a single mom and her daughter—the 5-year-old girl had mild cerebral palsy and could barely walk, and the mother could barely work because she had to constantly take the girl to the hospital.  They welcomed us so warmly, served us chocolates, and even bought us a poinsettia plant. The little girl showed us her favorite games. They seemed so happy and so grateful for the gifts—and I was so grateful for the afternoon I spent with them.
Holidays from the Heart is a heartwarming experience that always leaves me inspired to do more.