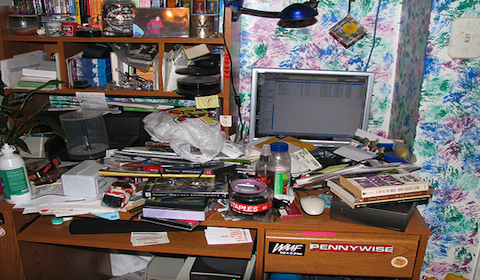 My room is a complete mess. When I walk in, the first thing I see is my dirty uniform from last week lying on my desk, my colored pencils scattered across the rug and my torn up textbooks piled high on my desk. My drawers are stuffed with clothes that I can never manage to fit neatly inside. My desk is hidden under crumpled homework from 4th Grade. But with many tests coming up, I need a good place to focus and study. Unfortunately, when my room is disastrously cluttered, I can't focus very well. However, not being able to focus means not being able to thoroughly understand the information I need to learn. Evidently, if I am not completely understanding the information, I won't do as well as I could do on the tests if I were studying in an organized learning environment.
Tuesday morning, I get my grade back on that horribly difficult math test and look at my paper, completely marked in red. My mouth drops open, and I can't believe my score. In red pen, a big "C" is circled on the top of my page. How did that happen? I know I studied, so it couldn't have been that. Or could it have? When I come home after School, I walk into my room and throw my books down. Suddenly, I think for a moment, taking in how completely and utterly disgusting and cluttered my study space is. I realize that my messy, unorganized room distracted me from my goal of studying hard. So I pick up my dirty clothes, tidy up my bookcase and in a few hours my room looks spotless. I smile and decide it is time to start studying for my huge French test that I have to take first thing in the morning tomorrow. I work relentlessly, studying every bit of material I was given, and my clean, orderly study environment helps tremendously.
Two days later, I receive my French test back. Grinning widely, I read a gigantic "A," written on the top of my paper! I see a smiley face from my teacher next to it. Who knew something as small as cleaning up my room would change my grade? From now on, I will keep my room nice and clean, so I don't have to worry about my cluttered room affecting my hard work and grades.
Here are a few tips for keeping yours neat too.
First, you should set aside a special drawer for your binders and materials needed to do your homework. If you have a drawer where you keep them all, you will not be frantically searching your room for your supplies everyday.
Secondly, you should ensure that all of your homework and assignments from years past are either put away or thrown away. Having too many papers can confuse you and could be a reason why your room looks the way it does.
Lastly, you should have a file drawer to keep your old papers in. It may seem like it isn't very important to keep your old papers, but you will find out just how important it is when you are studying for finals. Now go home, clean your room, and start studying!