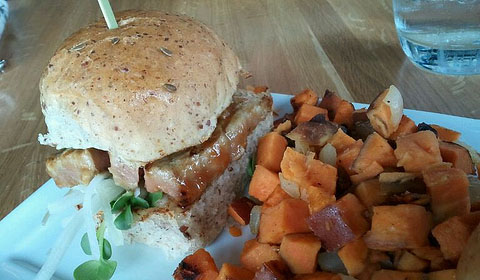 The True Food Kitchen, in the Third Street Promenade, is a gluten-free café that has an eclectic variety of foods ranging from Asian edamame dumplings to eggplant pizza. True Food opened recently and has something for everyone on their menu. If you go there, you have to be willing to experiment, because you may have not heard of some of the dishes that are on the menu; however, any of them will leave you completely satisfied. A few of the most popular items on the menu are the Spaghetti Squash Casserole, with fresh mozzarella, organic tomato and zucchini, and the Teriyaki Brown Rice Bowl with sesame seeds, avocado and scattered bean sprouts.
True Food serves not only dinner and lunch but also breakfast and desserts that are all gluten free, like their famous flourless chocolate cake served with vanilla ice cream and caramel.
They also serve an array of different juices and smoothies that are completely healthy and organic, giving you a burst of energy and leaving your taste buds with a whirl of flavor. My personal favorite drink is the Honey Lemonade containing their special house lemonade blend and honey. They have many other drinks that they have concocted, which you will not find anywhere else.
True food is a great restaurant for a group of friends or family that has something on their menu for all ages.