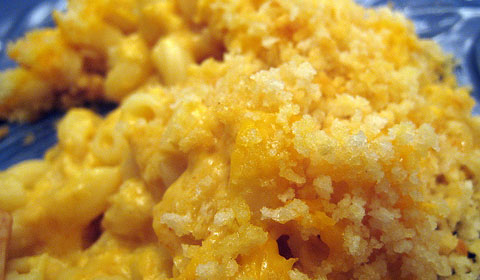 There is nothing like grabbing some good old-fashioned American comfort food after a stressful day of tests, pop-quizzes and insane amounts of homework at Marlborough. However, most comfort foods are packaged and processed. Kraft Mac 'n Cheese and frozen hamburgers are now the comfort foods many people settle for. What happened to the days when people would put on an apron and actually cook themselves food? In my family, we don't settle for the processed comfort foods being advertised every day; we make comfort food from scratch. But do you know what makes comfort food like macaroni and cheese so much better? Adding southern flares!  The cuisine of the American South is so delicious and can save any dish.
Here is a recipe for macaroni and cheese, southern style:
1 pound elbow macaroni 5 tablespoons unsalted butter (divided) 3 tablespoon all-purpose flour ½ teaspoon dried red pepper flakes 2 ¾ cups whole milk ¾ cup cream (no skimping!) 1 pound plus one cup grated extra-sharp cheddar cheese 2 teaspoons Dijon mustard Salt Pepper 2 cups bread crumbs
Preheat oven to 400 degrees. Prepare macaroni according to instructions, and keep one cup of cooking water. Melt three tablespoons of butter. Stir in flour and red pepper flakes to make a roux: it's a mixture of butter and flour used to thicken sauces. Cook the roux and stir for 3 minutes then whisk in milk. Bring sauce to a boil, then simmer, whisking constantly, until the sauce becomes thick. Remove from heat and stir in one pound grated cheese, cream, mustard, salt and pepper. In a large bowl or pot, blend together sauce and macaroni (add some of the cooking water if it is too thick). Make topping by melting the remaining 2 tablespoons of butter and mixing it with breadcrumbs and one cup grated cheese. Pour mixture into buttered baking dish and sprinkle topping all over. Bake covered for 20 minutes.
I know what you're thinking: mustard in macaroni cheese?! Trust me; the mustard makes this comfort food more delectable and tasty. So grab that apron, pre-heat your oven to 400 degrees, and cook yourself some mouth-watering, scrumptious macaroni and cheese.