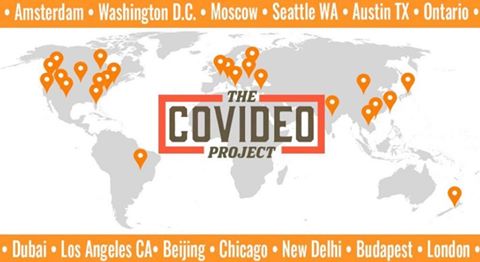 The coronavirus is officially a pandemic across the whole world, but some people are shining their own light in this scary time. A documentary project, called CoVideo, focuses on different perspectives of children across the world on the coronavirus and what seems like an endless stay at home order. With 48 participants from 17 different countries, CoVideo aims to include a diverse group of content.  Participants can daily vlog, take photos or even make Tik Toks about their experiences in quarantine. The documentary's Instagram has over 200 followers, and CoVideo is growing.  
The name, CoVideo, is a mash of the two words coronavirus and video. The creator of the project, Elson Bankoff, lives in Washington D.C. and has always been fascinated with film. 
"It's hard for us to go through this without any light on this has been affecting us"

– Hanna '22
"I did a camp at Exeter and it was film-based." Bankoff said.  "I liked movies and wrote screenplays but I've never thought about movies and how they affect society until now." She thought of the idea in history class on her last day of school before she moved to online classes due to DC's stay at home order. She wanted to make something with kids from all over the world. Bankoff found content creators from Dubai to Italy, and the diverse group was simply made from the word getting around and Bankoff's elite summer program. 
"My summer camp was a very international diverse group. Only two people in my class were from America," Bankoff said, " so it was a bunch of international film kids which couldn't have been better. It was all kind of a chain reaction." 
Lucy '22, is a participant from Los Angeles and a student at Marlborough. She wants to contribute by possibly writing a song for the piece with a newfound friend, Kana, from New Zealand. Lucy found out about CoVideo because she knows Bankoff through their parents' friendship and a sleepaway camp in North Carolina. According to Lucy, "CoVideo" provides an "interesting point of view for people in Gen Z. It's hard for us to go through this without any light on how this has been affecting us."
Bankoff hopes the project will be a full-length documentary when complete. "I want it to be professional," Bankoff said. "I want people to see it. Not some file in the back of the storage." Bankoff wants this project to be more known and for kids around the globe to be excited about the release. "I wanna reach out to Netflix," she said, "but I want to have it done first, so I have something to pitch."