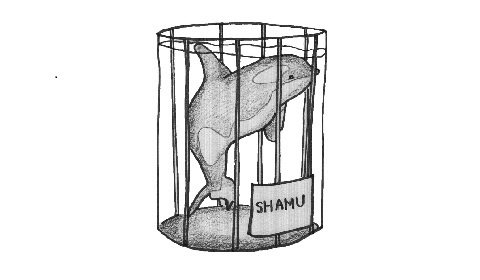 A gaggle of sophomores cluster around the Dolphin Encounter, excited to finally be on the famous overnight SeaWorld trip. Most girls ooh and aah as the dolphins flip and squeak, but a handful shift uncomfortably, noticing that 14 dolphins, who are capable of diving up to 150 feet, are swimming in a container just 35 feet deep. One girl turns to her friend and whispers, "Should there be so many?"
On Feb. 1-2, Emma '15 and Maddy '15 stayed home from what has become the annual 10th Grade SeaWorld trip because they believe that the School should not support an institution that practices what groups such as PETA (People for the Ethical Treatment of Animals) consider cruelty to animals.
Emma and Maddy are the first students in the six years since the trip was initiated to formally voice and act upon their concerns over the morality of SeaWorld.
10th Grade Level Dean and history and social sciences instructor Tom Millar said that each year the incoming 10th Grade Class Council, comprised of six elected students, is given the primary power to decide where and when the 10th Grade goes on their trip. Although Millar and Assistant Head of School and Director of Upper School Laura Hotchkiss do provide guidelines (e.g. the trip must be reasonably affordable and have an educational component) and give final approval, ultimately the students themselves choose their destination.
"I've encouraged [Emma and Maddy] to build a case so they can talk to the incoming 10th Grade [Class] Council once they're elected this year and basically make a case against SeaWorld," he said. The trip's expenses are covered by the $250 paid by each student.
Maddy, however, does not think that students should be held responsible for the decision, saying that the School should feel a sense of moral responsibility and change the trip even if students are not behind the idea.
"If a few people presented some reasons and made a presentation or something, the School will see that they don't really need to support something like this just because the class wants to go," she said. "I don't think that the School should be promoting it."
Three years ago, SeaWorld received a lot of publicity when an orca named Tilikum grabbed his trainer by her ponytail and drowned her, which was the third human death involving Tilikum. Orca shows resumed just three days after the incident, and Tilikum returned to performing in 2012.
"[Tilikum] is the big finish and it worries me that the show is more important than his well being or trainer safety," said Naomi Rose from the Humane Society of the United States with ABC News [in a 2011 interview].
According to Death at SeaWorld author David Kirby, the mortality rate of orca whales in captivity is 2.5 times higher than in the wild. Social altercations can be more threatening in captivity because the whales have nowhere to hide from aggressors. For example, the orca Kandu V died in 1989 from a severed artery in her upper jaw following a collision with another whale in an act of aggression; it took 45 minutes for Kandu V to bleed out in front of the public.
"They're used to being in the ocean, so being in these tanks isn't natural and creates a lot of stress. It shortens the lifespan, too," Maddy said.
However, according to Network Administrator Michael Simpson, the park's positive conservation efforts are often overlooked.
"I have personally toured their animal hospital facilities in San Diego and have witnessed first-hand their conservation and rehabilitation efforts in action," he said in an e-mail. "Out of all the possible activities which could be chosen potentially for the 10th Grade trip, I consider SeaWorld to be a worthy cause."
Simpson also stressed the fact that animals will refuse to perform if they are unhappy.
"I firmly do believe that SeaWorld is a safe haven for animals and I applaud their dedication to conservation and rehabilitation."
Both Emma and Maddy urge students to become more active and form their own opinions about the trip in hopes of reform.
"[Girls] say that [the SeaWorld trip is] a tradition, but traditions can change. If enough students got informed, I'm sure that they wouldn't participate." Emma said. "[SeaWorld doesn't] treat the animals well, and I don't think it's the best place to go when there are other options."
According to Millar, this is Marlborough's first animal-related protest, with the exception of one student who put up signs in an informal protest of the way that the School handled a squirrel infestation several years ago.