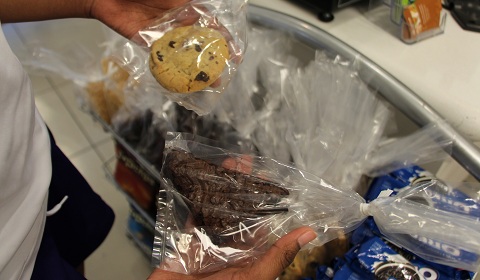 In response to parent complaints about the large size of treats served in Café M, Auxiliary Services Manager Clinton Oie immediately decided to cut the portion size of the treats in half at the end of October to better accommodate all students.
Several 7th Grade parents complained at the 7th Grade Parents' Coffee on Sept. 23 that their daughters purchased sweets that contained more sugar than they felt their daughters should be consuming.
According to the National Heart Lung and Blood Institute, the average 12-year-old girl is 5'1", weighs about 100-125 pounds and should consume 1,800-2,000 calories every day. The large cookies that had previously been served in Café M contain 390 calories, almost 20 percent of a typical seventh grader's daily caloric intake, and cost $1.30. The new, smaller cookies cost $0.75 and contain 195 calories.
Although the size of the treats has been reduced, some students simply purchase more cookies to make up for the difference.
"I typically buy cookies from Café M at least once a week, and now that the cookies are smaller, I buy two because it is the same size as one big cookie," Isabel '18 said.
However, Oie said the smaller portion size is making a difference, as in the past a student would rarely buy a big cookie with the intent of only eating half, even if she knew it was unhealthy or her parents had told her she shouldn't eat a large cookie without their approval.
"I decided that Cafe M could serve a small cookie for those students that crave that chocolate chip taste without having to buy a gargantuan one. If a student wants a big cookie, then she can buy two of the smaller ones," Oie said.
One of the challenges Oie said he faces is providing food for both Middle and Upper School students, as older and younger students have different food preferences and consume different amounts of food. Changing the treat sizes in Café M represents the administration's attempt to give students more options, but some students and parents are asking for more changes. According to Oie, some parents have requested that Café M only serve sweets once or twice a week to ensure students only have the option of making unhealthy choices for a limited time.
Eliza '15 agreed that too many unhealthy foods are available in Café M and around campus.
"I really think having cookies is just counteracting the message that Marlborough is supposed to have a healthy community and student body," she said. "Therefore I appreciate that the cookie size has been reduced and further believe that we should eliminate the Oreos and candy in Café M because they are unhealthy and the sugar rush is very disadvantageous to success in and out of the classroom."