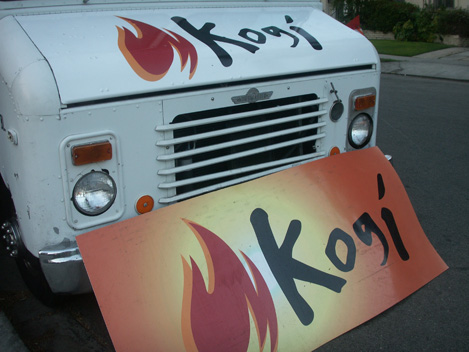 I never thought I would stand in line for two hours to pick up tacos from a truck, when I could find a taco stand or truck within a mile radius from any location in Los Angeles. However, the hype surrounding the Kogi Korean barbeque taco truck was too intriguing to pass up.
On Kogi's infamous Twitter feed, which has over 24,000 "followers," I found that there would be a truck between Wilshire and Cloverdale on Friday night.
Famished at the front of the line, I ordered an array of tacos (at $2 a piece), but the Korean barbeque short rib tacos were a personal favorite. Marinated and mixed with a Mexican chili soy sauce, salsa roja, and a lime cilantro relish, the tacos had a slightly sweet, salty, and nutty flavor and were double wrapped, lightly fried, and slightly crispy on the edges.
After the meal, I was curious how Kogi was revolutionizing street food, so I called Kogi's public relations director Alice Shin.
Shin said the family business was started one night over a late night taco run, when her brother-in-law, Mark Manguera, the co-founder of Kogi, suggested creating a Mexican-Korean fusion.
Kogi officially opened in late Nov. 2008, and since then Shin has used food blogging to spread the word about the new restaurant on wheels. Shin especially works hard at responding personally to every "tweet" or comment the restaurant gets on Twitter.
Within a few months, the LA Times reported on Kogi's use of Twitter, which helped spawn a huge following of Kogi fanatics addicted to the unique blend of Kor-Mex flavors.
"We're successful because we don't run it like we went to business school," Shin said. "Half the time we don't know what the hell we're doing. It's fun and people respond to that."
Executive chef Roy Choi, who previously worked in four and five star restaurants, gets creative control over Kogi products and introduces specials like the Kogi burger with salted watermelon and the spicy pork hot dog. Kogi's usual items include short rib tacos, kimchi quesadillas, and barbeque burritos.
On its busiest days, Kogi may encounter 500 customers at one stop. However, the lines should begin to die down because the company will soon introduce two more trucks to compensate for the increasing demand for Kogi tacos.
"I want the trucks to reflect the community they serve," Shin said. "Each crowd has its own flavor and identity."
I didn't just get a few tacos; I got the whole Kogi experience: everyone around me was talking to each other – both strangers and friends; everyone's boundaries were broken down by the mutual love for tacos.