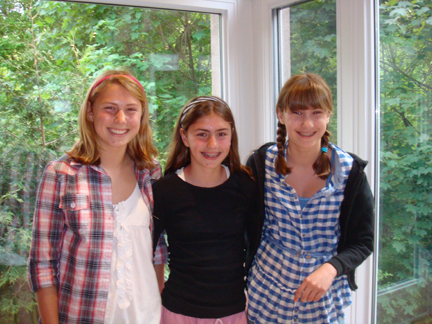 Julia '15, Elaine '13, and Rachel '11 will move to Los Angeles from Toronto, Canada to join Marlborough next year.
After learning about the school from friends in Los Angeles, the family decided to pay a visit to Hancock Park.
"The girls at Marlborough seem like such a great group of kids and got me more interested in Marlborough," Julia said.
The three sisters already attend an all girls' school and are making plans to load up their schedules.
"Some electives that I'd like to participate in are journalism, drama and Spanish. All of these subjects appeal to me and I hope to take these classes at Marlborough," Elaine said.
Elaine is also on a competitive swim team in Toronto and is interested in joining debate.
One thing the girls aren't concerned about is fitting in. Even Rachel, who will join the junior class, isn't worried.
"Junior year means we only have two more years to go, but I'm sure we will adjust quickly," Rachel said.
The sisters make up just three of the 104 new girls joining for '09-10 school year. 22 girls will enter the ninth grade, and 81 girls will enter the seventh grade.
While 22 seems like a high number of new ninth graders, the admittance rate has stayed the same as previous years. However, the percentage of ninth graders who accepted their offers to enroll increased, said Admissions director Jeannette Woo-Chitjian.
Woo-Chitjian said that she is excited about the number of accepted girls.
"Given the economy, our previous statistics, and that these girls are so talented that they have many, many school choices, we were honored and flattered that so many chose Marlborough," said Woo-Chitjian.
With so many new girls coming from different schools, ninth grade level leader and history instructor Helen Mendoza said that there will be more "twin sisters," where students are paired within the grade to support each other.