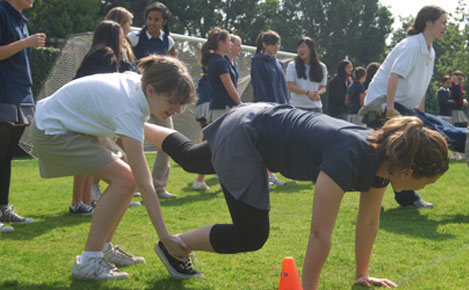 Sophie '09 and Ashna '14 connect over cookies, three-legged races, and "Mulan" at lunchtime event"
While Sophie '09 and Ashna '14 are six years apart, this unlikely duo has grown closer through the senior/seventh grade buddy program instituted this year by the senior class council. Before second semester, the senior council matched up students from each grade to help the seventh graders with their transition to Marlborough, Sophie said. Sophie was paired up with Ashna and was so excited about the program that she searched the entire school to meet her buddy ahead of time, she said.
"I had a picture of her, so I just ran around and asked a bunch of seventh graders if they knew where she hung out. I kind of tracked her down," Sophie joked.
The pairs later  participated in activities such as wheelbarrow and 3-legged races, held on the field during an advisory period. The "buddy day" was a chance for all the seventh grade/senior pairs to bond over field games, Diddy-Riese cookies, and milk.  Sophie and Ashna also came up with the idea one lunch to find seventh graders and put them in the senior living room, where they all watched Mulan together.
"With the type of personality she has, we can just be sitting down and still have so much fun. It doesn't really matter what we are doing," Sophie said.
While the senior class typically has limited interaction with the seventh graders, this program was started to bridge that gap. Sophie believes that it has been successful in this goal.
"It's not that I lacked respect for them initially, but now I just have more respect for the class because they're willing to hold their own in front of seniors, which I never could have done when I was in seventh grade," she said.
Ashna agrees with Sophie that the buddy program has given her a chance to get to know the "intimidating" seniors.
"I thought that all the seniors were scary at first, especially on the first day of school. Now they seem more approachable," she said.
Ashna also thinks that the seniors provide an experienced perspective, which helped her in her first year at
Marlborough.
"I like it because I get to see what it's going to be like as a senior. They can give advice on homework or tests because they've been through it themselves. It's made the transition a lot easier," she said.
As for why they get along so well together, both Sophie and Ashna agreed that it was because of their similar personalities.
"We just have that connection that I don't think many other seniors have with their buddies. I got lucky," Sophie said.