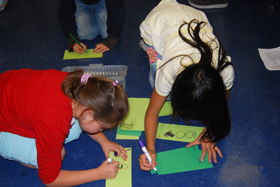 Twenty-five sophomores, juniors, and seniors helped approximately ninety middle school students climb ropes and perform the "leap of faith" at the first group field trip in the L.A. Team Mentoring program (LATM) on Dec. 6.
Included in the program are three weekend field trips.  The first was to Fulcrum Adventures in the Pacific Palisades last weekend.
Student mentor Julianne '10 said that the first field trip went a lot better than she expected.
The students played trust games and participated in high and low ropes courses, a hike, and the leap of faith.
Julianne said that the students were able to look to each other for support and encouragement while completing these sometimes daunting tasks.
"It was a lot of fun," Julianne said.  "I already feel so close to my group. This will be a huge bonding experience. I can see that these students will be friends for life."
The mentors must learn to overcome the limitations of some of the students, said Laurie Brown, director of community service and internships.  Some of the students have had rough backgrounds, and the mentors "give the students a broader view of the world," Brown said.
Lindsey '10, another student mentor, found that a lot of the middle school students in her group didn't take the project seriously at first.
"I want them to be able to open up to us by the end of the program," Lindsey said.
Julianne has similar goals.
"I hope I make some positive impact on their lives," she said.
Marlborough is the first high school to participate in LATM, which groups about ten middle school students from John Burroughs with two adult mentors, one or two student mentors, and a teacher.  The groups meet once a week for an hour and a half, with thirty minutes at the end for discussion. The weekly meetings began in the beginning of November.
"Not only do the kids learn about team-building, but our mentors have to learn to work together too," Brown said. "They learn patience, to really listen and to collaborate with other adults."
The program continues for 30 weeks, with the goals of fostering teamwork, encouraging the pursuit of education to prepare for the future and college, and  supporting community service in students who would not otherwise get any exposure to these opportunities.