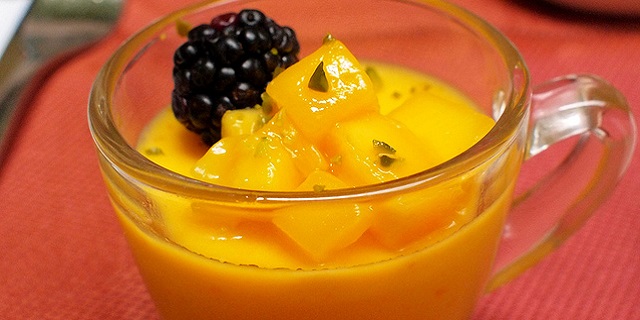 Growing up in Hong Kong, mango pudding was my comfort food.  The creamy deliciousness of mango combined with the sticky texture of the pudding was a light, fluffy heaven after a meal of heavy dim sum. In Hong Kong, a former British colony, mango pudding is eaten as a traditional British food. The dessert is cold and filled with the taste of perfectly ripe mangoes so it's ideal for a light snack during a summer day.  Below is a recipe modified from a version online to create this classic dessert.
Ingredients: 2 ripe mangoes, 1/2 cup hot water. 2 1/2 teaspoons of unflavored gelatin, 1/4 cup sugar, 1/2 cup evaporated milk, fresh fruit slices for garnish
Peel and carefully slice the mangoes.  Make sure to remove the pit.  Put the mango slices into a blender and puree until smooth.  In a glass bowl, stir the gelatin and hot water until the gelatin is completely dissolved.  Leave the mixture for three-four minutes.  Then, add the sugar and evaporated milk.  Stir until the sugar is dissolved completely.  Mix in your mango puree.  Pour the mixture into small, shallow dishes.  Cover each dish with plastic wrap and let the dishes chill in the refrigerator overnight.  After the pudding is chilled, add various fruit slices to garnish the dessert.  Enjoy!