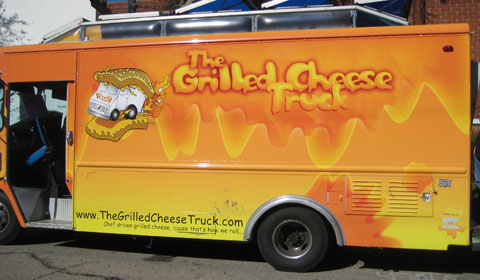 Over the past decade, Los Angeles has seen the rise and fall of popular food trends such as elegant cupcakes, self-serve frozen yogurt, freshly ground kale juices and pumpkin-spice everything. However, one consistent craze has been the food truck. These trucks are convenient, affordable, classy and delicious. What more could you want? Here is a compilation of some of the best trucks from around the city, serving everything from empanadas to gourmet grilled cheese. Enjoy!
·      Tornado Potato – Fresh, and wonderfully unique, these spiral-cut potatoes are surely not to be missed! Seasoned and fried to perfection, these potatoes also come in sweet, garlic and cheese variations. Find the truck here.
·      Farmer's Belly – If you're in the mood for organic, local, deliciously healthy cuisine, this is the truck for you! Favorite items include the Chicken Pesto Panini and the Farmer's Salad. Click here to find the truck nearest you.
·      The Grilled Cheese Truck – No, this is not your ordinary grilled cheese. These delightful, gourmet sandwiches are simple, yet one-of-a-kind. The sleek menu includes dozens of add-ons to your grilled cheese ensemble, including mac & cheese, roasted chicken and even s'mores! Click here for the truck schedule.
·      The Bun Truck – This delicious Korean-Mediterranean fusion truck serves Donkatsu steamed buns filled with pork, sirloin, veggies and more. It is also renowned for its duck fat fries. (I admit, the name sounds less-than-appealing; however, they have been highly acclaimed by a multitude of Yelp users.) Find the Bun Truck at First Fridays on Abbot Kinney!