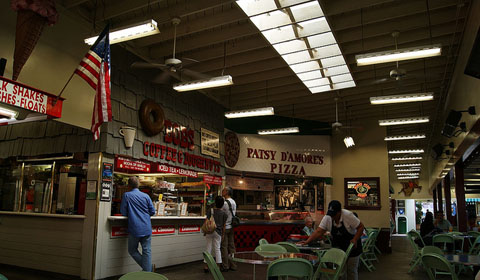 While walking through the Grove, I am surrounded by an eclectic variety of crepes, ice cream, exotic fruits and vegetables. The Grove's Farmers Market is filled with shops that not only vend delectable foods but that also sell a plethora of different products such as jewelry, clothes and sunglasses. While visiting the Farmers Market, my favorite place to eat is Bennett's Ice Cream, known for its wacky flavors, such as their pumpkin or cabernet sauvignon ice cream, and long-standing reputation as one of the best shops in the Farmers Market. All of the ingredients used to create their ice cream are all-natural,
The one restaurant that is my absolute favorite is Du-par's. Ever since I was a little girl, my grandparents would take me there to eat buttermilk pancakes on Sunday after church. Du-par's has been around for 60-plus years and has garnered a grand reputation for having the best pastries in Los Angeles. Loyal customers, such as my 83-year-old grandmother, still cherish sitting down there with a cup of coffee and a spinach omelette.
Although Bennett's and Du-par's are hidden in the hustle and bustle of the Farmer's Market, they both stand as legends in the Los Angeles area.