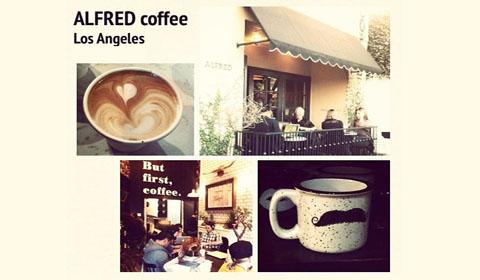 Alfred (Coffee & Kitchen) is a coffeehouse located on Melrose Place. You may have heard of Alfred's—its coffee is the subject of countless Instagram posts. The coffeehouse has been getting a lot of attention for its cool atmosphere and great-tasting coffee. Alfred's has a New York vibe with trendy furniture, dark colors and a downstairs ordering area. It's a perfect place to sit down on a comfy couch, drink your coffee and catch up with an old friend.
The cups used at Alfred's are just as cool and different as its atmosphere. The cardboard sleeves around the cups, featuring such designs as mustaches and mouths, attract a lot of customers. The coffee itself receives excellent reviews; many online reviews consider it as good as Seattle's Finest.
Alfred's only sells a limited amount of coffee and pastries. The coffee options available are espresso, Americano, gibraltar (mini-latte), macchiato, cappuccino, drip coffee, latte, and chai latte. The selection of pastries are muffins (blueberry, bran, banana and chocolate chip), scones (sour cherry & chocolate, blueberry, cinnamon oatmeal and raspberry), croissants (plain, chocolate, spinach & cheese). Alfred's also has other foods like cheese danishes, cinnamon rolls, apple fantes and mini apricot danishes.
Even though it's easier to go to Starbucks to grab a quick, cheap coffee, Alfred's coffee is remarkably better-tasting, and the atmosphere is better to work or relax in.