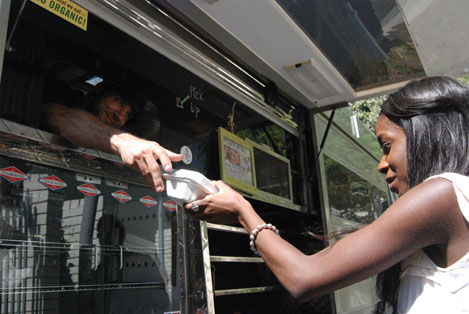 We smell it in math class. We see it take over the north corner of the driveway. This green machine called the Green Truck provides lunch as we wait for the final addition to construction – the new cafeteria.
"We needed something to pass the time because Café M just wasn't going to be ready," said Auxiliary Services Manager Clinton Oie. "I knew the normal taco truck just wouldn't fly, especially at Marlborough, so I punched in 'healthy organic food' on Google."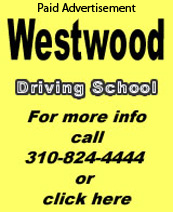 While researching, Oie came across the Green Truck, which "quickly rose to the top of the list" as the catering company to serve the school, Oie said.
Started three years ago, the Green Truck enterprise has grown rapidly because of its focus on organic food from local farmers' markets around Santa Monica and Venice.
"LA loves organic food sold on the street. I mean look at Kogi's. Taco trucks are the culture now," Green Truck manager Bobby Allen said.
With five trucks, the company is constantly on the move.
The trucks serve on movie sets and "occasionally do some pioneering en route," employee Ashley Hester said.
"It's crazy," Allen said. "One day we'll be catering for Britney Spears, and the next day we'll be here."
The men inside the truck at Marlborough are Ross Johnson and Conrad Beilharz. Johnson, who started cooking at age 15, has cooked around the world in places such as Indonesia and South America. However, Johnson said that he decided to settle down with the Green Truck because he agrees with its objective to provide healthy, sustainable eating options.
"For myself, I like [the Green Truck] because it gives sustainability and healthy choices instead of hormonally raised cattle," Johnson said.
Despite the goal of achieving sustainability, the food does come at a price.
"The food is great but it's so expensive, which is why I don't go as much as I would like to," said Megan '12.
Despite the prices with popular dishes like the sweet potato fries, students said that they will be sad to see the truck leave second semester.
"The Green Truck is the best, I have no idea what I'm going to do when it's gone," said Emma '12.
The Green Truck now serves breakfast burritos and yogurt parfaits from 9:15 to 10:00 a.m. For more information about the Green Truck, go to www.greentruckonthego.com.