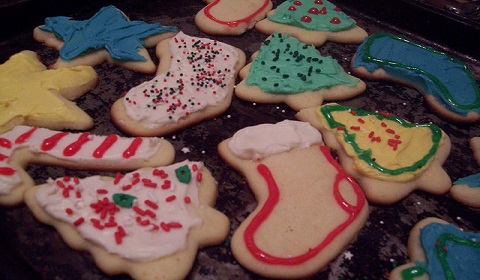 Baking Christmas cookies is a must for the holiday season.The bright red and green frosting colors or the sprinkles shaped like Christmas trees can put anyone into the holiday spirit. Here are some of my favorite recipes this season:
Pillsbury Christmas Tree Sandwich Cookies
Ingredients:
1 package (13 oz) Pillsbury® Ready To Bake!® SHAPE® Christmas Tree Sugar Cookies
3/4 cup vanilla frosting (from 1 lb container of frosting)
sprinkles
Directions:
Preheat oven to 350°F. Bake cookies as directed on package. Cool for 15 minutes. For each cookie, spread 1 tablespoon of frosting on the bottom.Top with a second cookie facedown, and press together gently. Roll the cookie sandwiches in sprinkles to cover edge of cookie.
Ingredients:
2 cups sifted all-purpose flour
1/2 teaspoon baking powder
1/2 teaspoon salt
3/4 cup unsalted butter at room temperature
3/4 cup granulated sugar
1 egg yolk
1 teaspoon vanilla extract
1/2 teaspoon mint extract
Red food coloring
15 crushed peppermint candies
Directions:
In a large mixing bowl, beat butter with sugar until creamy. Beat in egg yolk and vanilla extract. In a smaller bowl, stir together flour, baking powder and salt. Blend flour mixture into butter mixture to make a smooth dough. Divide dough into two equal portions. Set aside one half. To the other half add the peppermint extract and enough red food coloring to tint the dough a dark pink. Roll out each colored dough into a 16×10-inch rectangle, between sheets of wax paper. Remove the top sheet of wax paper from the pink dough; place dough on top side down on top of plain dough then peel off paper. Roll up dough tightly. Wrap in wax paper, and chill several hours until very firm. Pre-heat oven to 350°F. Unwrap dough and cut into 1/4-inch thick slices with a sharp knife; place on ungreased baking sheets. Sprinkle each cookie with a bit of crushed peppermint candy. Bake 10 minutes or until cookies are firm, but not browned. Remove from cookie sheets to wire racks; cool completely.
Ingredients:
1 roll (30 oz) Pillsbury® Refrigerated Gingerbread Cookies
120 small pretzel twists
120 semisweet chocolate chips (about 1/2 cup)
30 candied cherries cut in half
Directions:
Preheat oven to 350°F. Divide dough in half; refrigerate one half until needed. With hands, shape one half of cookie dough into 7 1/2-inch-long triangle-shaped log. (If dough is too soft to cut, place in freezer for 30 minutes.) With thin sharp knife, cut dough into 30 (1/4-inch-thick) triangular slices; on ungreased cookie sheets, place 2 inches apart. Place 2 pretzel twists on each triangle near corners, for antlers. Bake 7 to 11 minutes or until set. While warm, lightly press 2 chocolate chips into each cookie (for eyes) and 1 cherry half for nose. Remove from cookie sheets. Let stand until chocolate chips are set, about 15 minutes. Repeat with remaining half of dough. Store between sheets of waxed paper in tightly covered container.