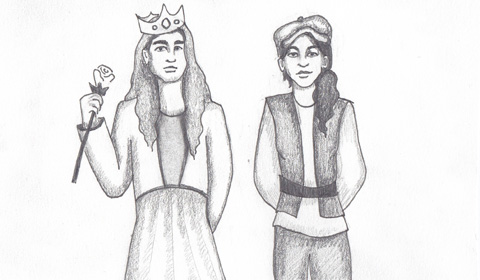 Dustin Hoffman cross-dressed his way to an Academy Award for his portrayal of Dorothy Michaels in 1982's Tootsie. A decade later, Robin Williams took home a Golden Globe for Best Performance by an Actor in a Motion Picture for Mrs. Doubtfire. More recently, Mark Rylance, the former Artistic Director of London's famed Globe Theatre, who is widely considered to be one of the greatest English actors of his generation, reinstated the Shakespearean practice of casting men as women at the Globe. Rylance himself has played Cleopatra and will soon be on Broadway playing Lady Olivia in Twelfth Night.
Although Marlborough, which regularly casts female students in male roles in theater productions, is in keeping with standard industry practices, other local schools are not. Students at all-male Loyola High School never play female characters. Instead, Loyola casts girls from neighboring schools to play female parts in their theater productions.
Charley Rock, who graduated from Loyola in 2012, acted in several plays throughout his high school career. Rock believes boys refuse to play female roles to protect their image in a community that prides itself on its masculinity.
"I would say that the main difference is that boys like to look macho in front of their friends, and most would be too embarrassed to take on a feminine role. I know that some boys feel self-conscious just being in the theatre program in general, as the culture of Loyola is heavily based on athletics, so playing a female would probably be out of the question for most," Rock said.
Georgia '16 believes that, at Marlborough, girls welcome the opportunity to step outside themselves and embrace the difficult task of portraying someone of the opposite sex.
"I don't think theatre girls mind playing boys because it's a great challenge and also it can be really fun. Loyola boys probably would be scared to be made fun of if they played girls," Georgia said.
Charley Rock agrees it takes a certain kind of confidence to be on stage in any capacity and knows many performers fear the vulnerability inherent in live theater. Teenage boys, he suggests, may lack the perspective and fortitude to transcend that angst and knowingly stray from straight and narrow gender roles.
"It would be interesting to see Loyola perform Hairspray, as there is a female character who is traditionally portrayed by a male actor," Rock said.
"If you asked me to do it, I'd be all for it! But unfortunately that's just not the case for the boys who feel like they have something to prove," he added.