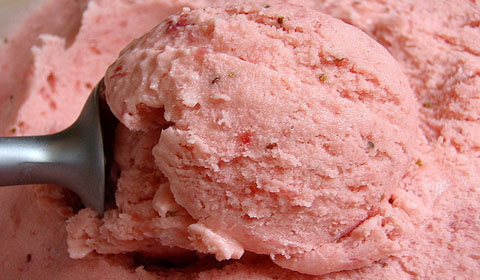 Sweet Rose Creamery is a delicious ice-cream shop that  debuted in the Brentwood Country Mart in 2010 and recently opened another location on Pico. This quaint shop is filled with the sweet aroma of homemade waffle cones and bustles with customers waiting in long lines for a tasty treat. Sweet Rose treats are made with the best ingredients. All ice cream and toppings are homemade from organic milk, cream and eggs that come from local farms. Lactose intolerant ice-cream cream lovers can also enjoy Sweet Rose's sorbets and dairy free options.
To keep it interesting, Sweet Rose changes its flavors depending on the season. Some of its current seasonal flavors are:
Apple Pie

Eggnog

Rum Raisin

Cranberry Compote with Salty Pistachio

Spiced Nectarine with Toasted Almonds

Pineapple Guava Yogurt

Horchata (dairy free)

Yuzu Sorbet (dairy free)

Persimmon Cardamon Sorbet (dairy free)
Along with these seasonal flavors, Sweet Rose continues to sell its classic flavors all year long. The classic flavors are:
Caffe Luxxe Coffee

Chocolate

Old Fashioned Vanilla

Fresh Mint with Homemade Chocolate Chips (I highly recommend this flavor!!!)

Salted Caramel
Sweet Rose has some exciting news for any Marlborough girl with a sweet tooth. In 2014, Sweet Rose will be opening a new location on Beverly Drive; the new shop will be only a block away from the Grove and two miles away from Marlborough.