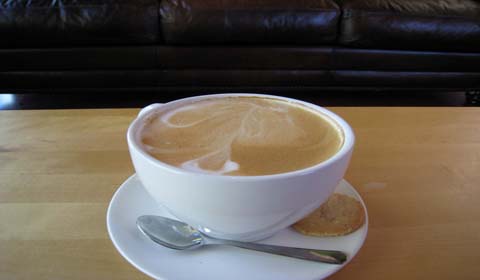 Sometimes living in a city like Los Angeles, which has so many cool and unique hangouts to discover, can be stressful. There are so many places to choose from, so it can be difficult to know which ones are the best. Obviously, the main determining factor is the quality of the food (for eating and Instagram purposes). However, other factors like the atmosphere, location, and crowd can certainly matter as well.
The Bourgeois Pig, a small café located in Hollywood, is the ideal hangout because it combines delicious food and addicting caffeine with an interesting atmosphere and cool people.
    From the street, the café, tightly packed between a bookstore and other cozy restaurants, seems ordinary, but behind its simple door it has a unique interior appearance. The café features an elegant bar with velvet stools and many other comfy seat options. In the back of the café there is a room that resembles a forest, equipped with a fake moon and numerous nooks and crannies. Different types of people fill up every corner, including hip young adults, writers and the occasional sketchy old man. It is even a known fact that the Sprouse twins enjoy spending time there, and Kyla '14 recently met Miley Cyrus right outside the hidden café.
         Now for the most important part: what to order. There is an unlimited assortment of coffee and tea, and most importantly, the Chai. I highly recommend the Pirate's Chai with almond milk. It is the perfect blend of spicy and sweet and comes in a large, seemingly bottomless cup. Other interesting drinks include the vanilla mint milkshake and Moroccan mint tea.
          If you are in the mood for some quality caffeine, a cool atmosphere and/or a possible celebrity spotting I strongly recommend that you visit the Bourgeois Pig. I promise that you will not be disappointed.