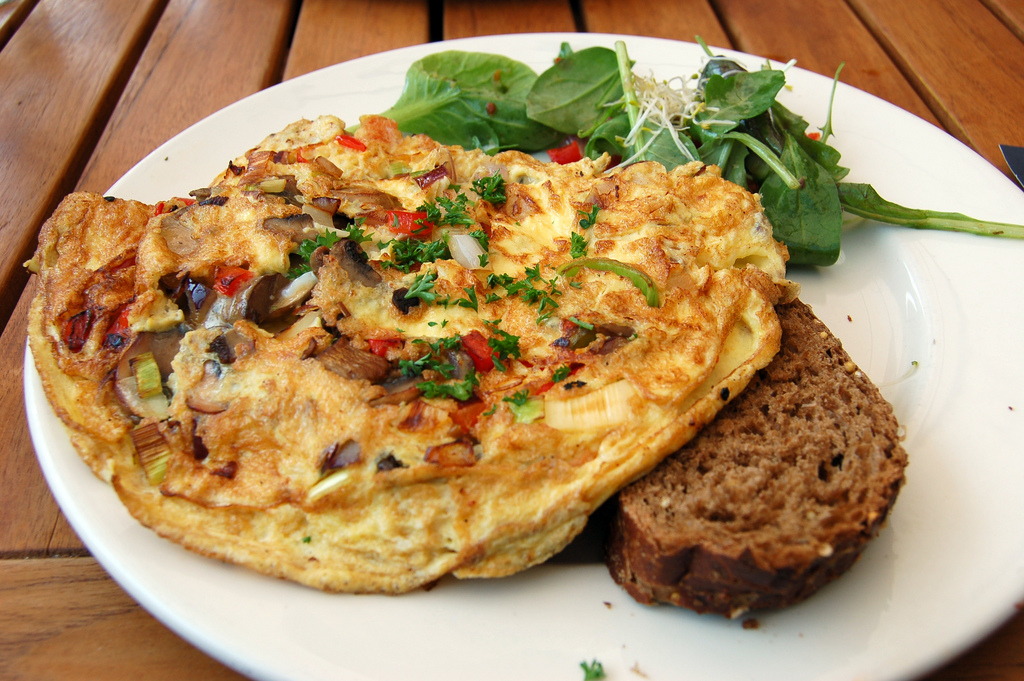 Nothing is better than an omelet made from last night's leftovers; it's like a ratatouille of breakfast foods. But unless you have a griddle and a giant spatula like the ones in Café M, omelets seem pretty difficult to make. Luckily for you, I consider myself an omelet master. The following recipe is pretty simple and the eggs can be made in about fifteen minutes.
Ingredients
–       Two eggs per person
–       Onions
–       Pre-cooked meat, e.g., sliced turkey, ham or chicken (optional)
–       Leftover vegetables, e.g., zucchini or tomatoes (optional)
–       Shredded cheese, e.g., cheddar, goat or mozzarella
–       Olive oil or butter
–       Salt and pepper
1.     First, chop up the onion really well; you don't want any large chunks. The amount really depends on how much you are making, but you need enough onion to be able to spread a thin layer over the whole pan.
2.     Heat a modest amount of either olive oil or butter, just enough to cover the pan.
3.     Add the chopped onions, put the heat on low and stir the ingredients occasionally.
4.     While the onions are cooking, cut up the meat and vegetables. Chop them up according to how chunky you want the omelet.
5.     When the onions turn slightly golden brown, add the meat. (If this is a meatless omelet, wait until the onions are a little browner before adding the vegetables.) When the meat is warm and turns golden brown too, add the vegetables, and stir everything in the pan.
6.     Take the eggs, and break them in a separate bowl or cup. Mix them well so that they turn a universal yellow color. Add some salt and pepper.
7.     Everything in the pan will be warm and cooked by now, so spread the ingredients in an even layer, and pour the eggs on top of them, making sure the eggs completely cover the other ingredients.
8.     When the bottom of the omelet becomes solid, take a spatula, and lift up a side of the omelet while tilting the pan so that the uncooked egg can slide under the cooked egg. Repeat the process around the entire omelet until there is in only a little bit of uncooked egg on top.
9.     There are two ways to flip the omelet. The fancy way is to use the pan in order to flip the omelet up in the air, but you can also just use two spatulas to flip your creation.
10.  Once flipped, immediately add the cheese to one half of the omelet. After about a minute, use the spatula to fold the omelet in half. This allows the cheese to melt.
11.  Let it sit for a second, and then flip the omelet again so that each side is browned evenly.
12.  Put the omelet on a plate, and add salt and pepper to taste. Enjoy!