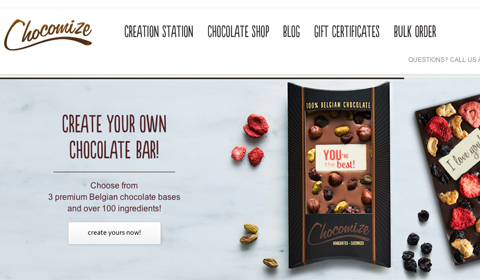 Admittedly, there are some pretty amazing foods out there, but have you ever dreamt up your own crazy delicacy and wished you could make it? Now in the golden age of technology, you can! A new craze of food customization has taken over the internet.
My favorite food personalization website is Chocomize: an easy to use website that allows you to fulfill your wildest chocolate dreams. Start in the Creation Station and pick a type of chocolate (dark, milk, or white) and then add up to five toppings. Chocomize has a myriad of toppings ranging from classic add-ins like almonds to atypical munchies like Pop Rocks. They also have decorations to add on to your heavenly chocolate bar, such as 23 karat gold flakes and crystallized flower petals.
Another bookmark to add to your server is eCreamery. eCreamery is a virtual ice cream bar where you can actually order the ice cream after making it. Begin by choosing a base (sorbet, gelato, or ice cream), selecting a main flavor, and then adding up to three mix-ins. My masterpiece, appropriately named Get Me Through Junior Year, is a mocha base ice cream with chocolate covered waffle cone pieces, cookie dough, and Oreo cookies. Unfortunately, the price rounds up to 75 dollars because the smallest amount that can be made is half a gallon. But, if the money were split between friends, it's a perfect midterms snack.
Marlborough girls seem to always be caffeinated, usually by Starbucks, but what if you could help wane that coffee addiction with some delicious tea? Design a Tea is a website where you can customize your own flavor of tea. It is similar to the other sites because you start with a base (black, oolong, green, or rooibos tea), choose flavors, and then choose size and quantity. I am addicted to Vanilla Chai Lattes from Starbucks so I would probably make a vanilla chai black tea to save money and become healthier at the same time.