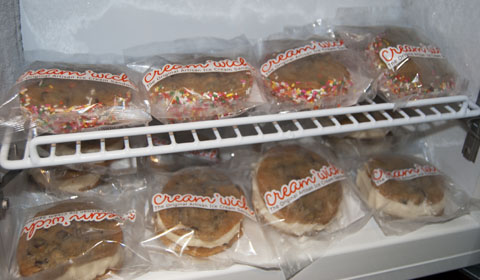 No matter how much I say I am going to branch out and try something new on Larchmont, I always find that my go to lunch, dinner or snack place is Wine and Cheese. If I go at an inappropriate time for delicious sandwiches, I will often browse the leftmost aisle of the shop, looking at the variety of drinks, sweets and jarred pickled vegetables. Everything always looks so delicious and I never know what to get. However, I recently chose a new favorite: the ice cream sandwich.
Many of you might say that I am mistaken about the presence of this frozen treat at their your favorite local sandwich shop, and to you I say: you should visit your precious gem more often. These delectable delicacies are a recent development for Wine and Cheese and I could not be more excited about them.
The sandwiches are called Cream-wiches, a commonly known brand also sold at Manhattan Beach Creamery. They are comprised of two cookies with a scoop of ice cream in between. They are in a small case on the left, right before the row of coolers housing drinks and salads. My favorite flavor would have to be the chocolate chip cookie with vanilla ice cream, although you cannot go wrong with any of the choices.
Now, when I go off to college and am craving a #4 on baguette, no greens, extra spread- yes I am that picky girl who takes an hour to order- I will need an ice cream sandwich to go with it. UPS can ship a package with dry ice, right?