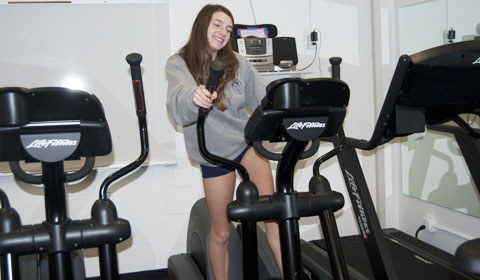 In LA, where the sun is always out and "partially cloudy" means nothing, it makes complete sense to bask in the outdoors and absorb the warmth of the sun.  So, why do so many people choose to workout behind doors in small, crowded, sweaty, loud rooms? It's pretty obvious that indoor exercise classes like yoga, spinning, and Pilates have become outrageously popular. Here are some reasons why one may find some of these classes more appealing than enjoying the California sunshine.
1. Indoor Spinning
                These classes are major calorie burners; one can shed up to 500 calories in only 40 minutes. Classes focus mainly on leg power and most feature high-energy music. Many of the spinning machines have screens to view heart rate a control for resistance. Some studios like Flywheel channel a person's inner competitiveness by ranking each spinner's progress on a screen for the whole class to see. This feature benefits those who aren't great when it comes to self-motivation. The only major downside is that a class usually costs around 25 dollars, which can add up.  However, if you're really into it, buy classes in bulk for a better deal and work those quads.
2. Yoga
                Are any of you worried about not being able to touch your toes at the ripe age of 16?  I know I am definitely concerned about my flexibility. Doing yoga on a regular basis will help to improve flexibility. With our busy schedules yoga can also help to relieve stress and unclutter the mind for a good hour. Class intensity can vary from "wow I'm sweating more than I ever imagined possible," to "oh this is relaxing." My favorite yoga studio is Yoga Works, which is conveniently located right on Larchmont.  Another even more convenient and free option is to sign up for Ms. Burke's yoga class as a PE elective.
This is just a snapshot of the endless possibilities one might find with indoor exercise class options. Others include kickboxing, pilates and Zumba. While these classes are all quite appealing, I say why not open your door, embrace our perfect weather, and go for a run?