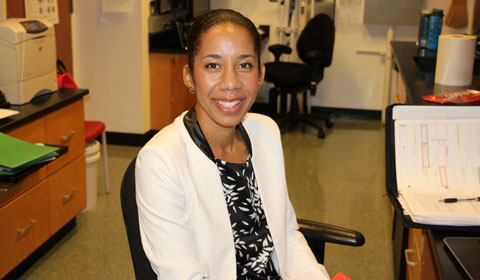 Science instructor and assistant cross country coach Khanichi Charles never "in a million years" believed that she would be coaching high school cross country. Charles ran the 4×4 hurdles for her high school track team and trained with the cross country team during the off-season. As the coach of the Marlborough team this year, Charles hopes to get to know some Upper School students, since she primarily teaches Middle School. Charles moved from Boston to Los Angeles only two weeks before school started and is currently living in a hotel with her husband and three-year-old daughter while they look to buy a home. Charles recently defended her dissertation in Biological Sciences at Harvard's Graduate School of Public Health on Sept. 5.
Performing Arts instructor Holly Rothschild has been teaching dance for more than 20 years at places like Columbia College Chicago, Windward School, and the summer Conservatory Program for Performing Arts at Harvard-Westlake School. With her husband, Rothschild owns a professional performance company called String Theory, which combines sound, movement, contemporary dance, music, architecture and environment. She has also done freelance choreography for shows at LA Magazine and the Santa Barbara Museum of Art. Additionally, she produces a dance festival in Maine during the summer. At Marlborough, Rothschild is currently working with the Middle School dance classes on the fall dance production, which will take place on Nov. 11. They are working on a site-specific piece that involves dancing around the campus and working with the architecture. The performance will serve as a great celebration of Marlborough School's 125 years, and Rothschild is excited to be a part of it.
English instructor and newspaper advisor Ellie Frazier grew up overseas, and her first teaching job after college was teaching English and Art History in Switzerland. She studied ballet from toddlerhood until college and loves anything that involves being active and outdoors, including hiking, biking, and running. In college, she led outdoor adventure trips for Overland, which made her realize how much she loves working with young people. She currently volunteers every week as a creative writing instructor to incarcerated boys at Central Juvenile Hall, and she's excited to join the faculty at Marlborough. Frazier loves to challenge herself and explore new places. She recently completed the Malibu Triathlon and has run six half marathons and the LA Marathon, climbed Mount Kilimanjaro, and biked across the United States. Last spring, she biked down the California coast with her dad, and this summer she spent two weeks traveling around India with her new husband, whom she married on Sept. 28.
Associate Director of Admissions Christine Thornton loves working at an all-girls school. To this day, she remains friends with 12 other girls from her all-girls high school. Thornton has lived in Los Angeles before and loves it, and she's excited to be at Marlborough. She worked in the corporate world for 10 years, dealing with education finance and private student loans, but she realized that she missed working in schools. Most recently, Thornton worked as the head of admissions at St. Gregory College Preparatory School, a co-ed independent school for grades 6-12 in Tucson, Arizona. Thornton plays tennis and golf, and her favorite pastimes are reading and exploring. She loves staying busy, being around friends, and going on road trips, and she recently met up with many of her college friends to see Boston College (her alma mater) play USC.
English Instructor Joanna Ro is a die-hard University of Michigan football fan. Ro values both the outdoors and city life. She enjoys hiking and rock climbing in addition to watching live music and attending shows. She comes to Marlborough from Phillips-Exeter Academy, a boarding school in New Hampshire, where she coached varsity volleyball and varsity golf in addition to her duties as an English teacher. She says that her lifestyle at the boarding school was much different than the one she is leading now, mainly because she lived on campus and oversaw a dorm with 60 girls. Until college, Ro always believed she would work in the medical field, but in college she got a job as a translator for the Immigration and Naturalization Service (INS) during a bust that involved the illegal trafficking of women. She says it was an "eye-opening experience," which led her to be interested in the humanities and to pursue a degree in English.
Athletic assistant and admissions clerk Katherine Johnson returns this year after working in admissions at Marlborough last spring. Johnson grew up in Fort Mill, South Carolina, where she was on her high school volleyball team and in the band. In her senior year, she headed the colorguard/ winterguard program, in which she competed with her band against other schools and placed 14th at the international championships. Johnson's favorite subject was English because she enjoyed writing and currently does some freelance writing and blogging. Before coming to Marlborough, Johnson worked at an event management company, planning everything from weddings to Bar Mitzvahs. Johnson is the mother of a three-month-old daughter and enjoys going hiking. Johnson also enjoys reading and is currently training to run a 10K.
Mathematics Instructor Jodi Zevon Ptaught at Yeshiva University High School for Girls for the past eight years and has also taught at Brentwood School. She has a five-year-old daughter who loves to swim, dance, and see movies. Zevon admits that she has seen only children's movies since her daughter was born, and her favorite movie at the moment is Despicable Me 2. In high school, Zevon was a gymnast. She enjoys games, puzzles, and shopping and says that if she could choose a different career, she would be a neurosurgeon because she loves doing hands-on work and finds the brain's connection to the body very interesting. Zevon says to look out for the song, "Werewolves of London" around Halloween because the artist is her late father-in-law, Warren Zevon, who was a famous musician in the 70s.