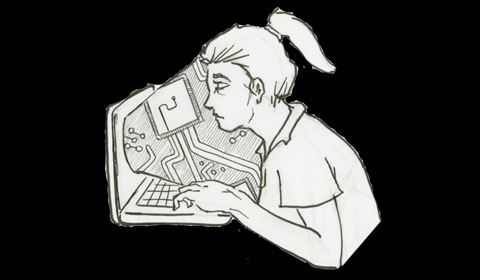 In this age of constant innovation, we are creeping toward a future brimming with new technologies. While we have not reached the point where we can attend Drivers Ed for flying cars, here are some recent inventions that seem torn from the pages of a science-fiction novel. Let Director of Academic and Administrative Technology Stuart Posin know if you think the School should invest in any of these futuristic devices.
Paper USB Drives
Rather than having flash drives bloated with files and scattered all over your abode, you can now dispose of them once you are completely positive they have no use anymore. Instead of a plastic sheath around the circuitry of the hard drive, these USBs are instead covered in paper, which is better for the environment. You can buy these devices in a bulk of four connected tabs plastered in molded paper and then rip one from the pack. These nifty gizmos will fit well stylistically with your MacBook Wood Keyboard cover, which gives your keys the look and feel of either bamboo or rosewood.
Google Glass
These sleek spectacles give you access to all of the two dimensional programs of a smartphone in a three- dimensional reality, projecting a "screen" invisible to others directly in front of your face. Through voice commands, you can use any app, such as Google Maps or video chat, and you can even take pictures with a blink of your eye. If you watch a movie wearing these bifocals, which are also available with prescription lenses, you are basically within the cinematic realm, up close and personal. Although this experience may sound conducive to vertigo and vaguely reminiscent of Wall-E, we can expect Glass to become ubiquitous once the product is officially released in late December. At this point, only 8,000 people selected by Google from a pool of applicants have Glass.
Pedal-Powered Charger
The Atom is a thin generator that can charge your mobile device as you ride your bike. Though not yet in wide circulation, this product is available through the Kickstarter page of its creators, Aaron Latzke and David Delcourt. I expect the Atom is ideal when you dash out of bed having forgotten to set your alarm the night before and have to pedal furiously to School with a dead phone. Ironically, as you deplete your own energy huffing and puffing through Hancock Park, your phone draws power from your exertion. Symbiosis, anyone?
3-D Printers
Printing in the Academic Resource Center (ARC) is usually a frustrating procedure involving jammed paper and a dearth of ink. But 3-D printing looks to be much more gratifying. You design your intended object or download prepared designs created by other people, and the printer produces layers of paper, powder, liquid or sheet material in the object's basic form. You can then remove some of the excess material to make your item immaculate. Some interesting things you can make include high heels, puzzles and mummies. If for some reason you're in a room with one of these printers and you suddenly get a hankering for a model airplane or some jewelry, you can fulfill your wish with a bit of tinkering on the computer. Get excited, because the School is thinking of purchasing one of these devices.