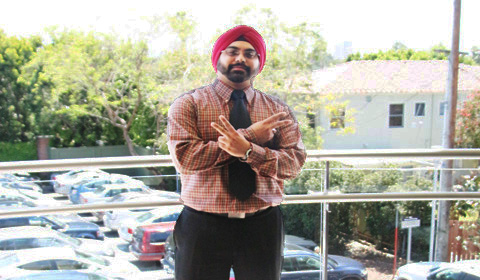 1. He was born on the Jul. 4 1983, a birthday shared by both Head of School Barbara Wagner and the United States of America
2. He is from New Delhi, India and moved to the United States when he was 17, in 2000.
3. He has a weakness for Chinese food.
4. The word "Singh" comes from the word "lions" in Punjabi.
5. He trained for four years at the Army Public School in India with the goal of being in the air force, but he had to quit when he lost the perfect vision necessary to be a fighter pilot. During his junior year he got chicken pox, so he stayed home and watched movies and played video games. Since his immune system was already in a vulnerable state, his vision was affected and he never recovered.
6. He attends over 100 professional sport games every year and closely follows the Los Angeles Lakers and the Los Angeles Clippers.
7. He became a math teacher by accident, having originally planned to become an electrical engineer. However, when he was studying at UCLA, his professor recommended Singh for a teaching program.
8. His nickname is DP, which is short for his first name, Deepender, but sometimes his dad and friends call him Bob.
9. He plays at least an hour of poker every day because he says it keeps his mind fresh and involves a lot of math.
10. This year he formed a staculty (staff and faculty) basketball team, composed of himself, performing arts instructor Doug Lowry, science instructor Andrew Witman, Associate Director of Design and Development Chris Colthart, Director of Academic and Administrative Technology Stuart Posin and, occasionally, Director of Middle School Bob Bryan. Singh planned practices to prepare for their Dec. 10 game against the Varsity Basketball team, which the staculty won, 46-43.
11. He has been known to watch Bollywood movies for ten hours straight.
12. He wrote about sports and current events for a now deactivated UCLA blog known as Mathscipro. His favorite post was about Brangelina, because he got over a thousand comments.
13. He has over 150 cousins all over the world, about 3/4 of whom he has met; his goal is to meet every single one of them. Once, his dad tried to make a family tree but gave up because it was too complex.
14. In high school, he served as a prefect, which are individuals that are given the responsibilities to monitor the school and to represent students. While manning the post he was caught ditching class. Prefects caught ditching class at this school had their badges taken away, but he convinced his principal that he only skipped class to help a friend propose to his girlfriend, which was not true. Not only did the principal let him keep his badge but he also was given a certificate of friendship from the school.
15. He considers shoes to be the most important part of a person's outfit.
16. He has a double right earlobe.
17.  He has two brothers, who are twins.
18. He is Sikh, which is a religion that prohibits one from cutting one's hair. He has never cut his hair and, as a result, it reaches to his waist.
19. He likes to play old-school computer games such as solitaire, FreeCell and minesweeper.
20. His favorite TV show is The Big Bang Theory.