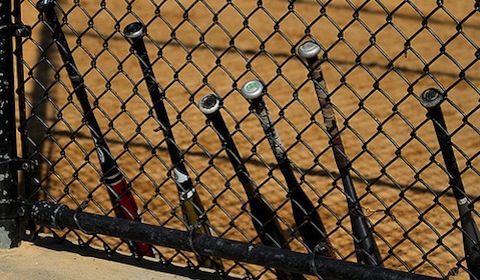 On Fri. May 3, many teachers and students congregated on Booth Field after School to watch the Varsity Softball team square off against Marlborough staff and faculty in a friendly competition, which the "staculty" won, earning the first-ever Barbara Wagner Trophy.
The "Staculty" rebounded after last year's crushing defeat and emerged victorious with a final score of 4-3.
During the game, players and spectators munched on the free nachos, popcorn, and soda laid out on tables next to Booth Field and watched the action as they listened to the commentary of Ellie '13 and Rafi '13, the MCs for the event.
According to Varsity Softball player Christina '16, her team did not take the game as seriously as the faculty and staff did, since the students believed that the purpose of the game was to have a good time, adding that several questionable calls by referee and physical education instructor Naoto Tashiro also contributed to the staculty's success.
"Sammi Valdivia '15 had this really good bunt and the umpire [Tashiro] said it was foul, and it really wasn't," Christina said. "[The game] got a little heated towards the end, but overall I thought it was pretty fun."
Christina said she thought everyone on her team enjoyed themselves for the most part and noted that several amusing moments occurred over the course of the game.
"[History and social sciences instructor and 10th Grade Level Dean Tom] Millar was like running to go get a ball and he just completely slipped and fell on his back and he had trouble getting up; it was really funny," she said.
At the end of the game, Athletics Director David Collicutt awarded the "staculty" with the Barbara Wagner Trophy. The trophy congratulated the staff and faculty on having won two out of three Varsity-staculty competitions during the 2012-2013 school yaer: they lost to Varsity Tennis in the fall, beat Varsity Basketball during the winter season and finally triumphed over Varsity Softball.