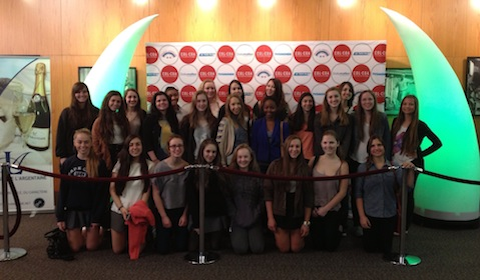 On Thursday, Apr. 18, students from Upper School French classes left Marlborough at 9:30 a.m. to attend the fourth day of the ColCoa (City of Lights, City of Angels) French Film Festival, at The Directors Guild Theater Complex on Sunset Boulevard, where the students watched Jappeloup, a French film directed by Christian Duguay and released in France in March of this year.
Many other students from schools such as Campbell Hall and Polytechnic School joined them in the spacious theater. After watching an animated fictional short about roosters at Versailles, the audience saw the film, which tells the true story of the friendship that develops between a young man, Pierre Durand, and his horse, Jappeloup de Luze, during their journey to the 1984 and 1988 Olympics for equestrian show jumping.
After the movie ended, the moviegoers had the opportunity to ask questions of the director of the Festival, though they were required to pose their inquiries in French in order to practice their language skills. Katie '15 said she enjoyed the film but did not ask questions in French.
"There was one kid that kept asking the stupidest questions, he was like…'do you have any bloopers?' and everyone started laughing because the [man answering the questions] didn't know what bloopers were," she said.