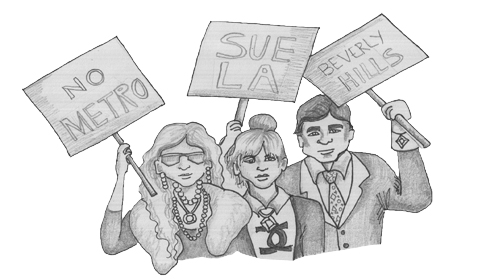 In the past six months, both the City of Beverly Hills and the Beverly Hills Unified School District (BHUSD) have filed lawsuits against the Federal Transit Administration (FTA) in an effort to prevent the Los Angeles County Metropolitan Transportation Authority (Metro) from tunneling under Beverly Hills High School to build a subway station, claiming construction of the proposed Century City station would disrupt school renovation plans and possibly spark a deadly gas explosion.
The proposed Westside Subway Extension, also known as the Purple Line Extension, would connect downtown Los Angeles to the Westside for 9.4 miles through Miracle Mile, Beverly Hills, Century City and Westwood, mostly along Wilshire Blvd. Utility crews have already started digging into asphalt to relocate telecommunication lines at Wilshire and La Brea Ave., where the first stop is located. Construction on that station is supposed to start in 2014, and the entire line is scheduled to be completed in 2036.
The Metro board approved tunneling under the high school last May. This outraged members of the Beverly Hills community who claim the FTA is violating the California Quality Environmental Act. These Beverly Hills residents believe that tunneling under the school would cause a methane gas explosion by interfering with the oil field there, which is still active and partly funds the school.
However, Metro maintains that there is no danger of a methane gas explosion; on the contrary, their environmental impact investigations showed that, because of earthquake faults, the only safe option for a Century City station would involve tunneling under Beverly Hills High School. Metro has also found that advances in subway tunneling in the past two decades have made it safe to tunnel in areas of methane and other gases without danger.
Metro has also done its own study with a geological team comprised of former and current University of Southern California (USC) and California Institute of Technology (CalTech) professors to verify that tunneling under BHHS is safe.
"We've invested years of environmental review for the project, and our findings have been verified by geologic experts," Communications Manager of the Metropolitan Authority board Dave Sotero said. "Science, not emotion should inform the debate over the subway's path through Beverly Hills."
BHUSD and the City of Beverly Hills also filed a separate lawsuit against Metro itself in state court in 2012. Beverly Hills City Council voted 5-0 on Feb. 5 of this year to add an additional $250,000 from the Beverly Hills budget surplus to the $1 million already being used in the legal fight against the subway route. The timing of this suit has also annoyed BHUSD, which reported a $3.5 million shortfall for 2013-14. "The Beverly Hills City Council has been very clear about its opposition to any tunnel beneath the high school," City Attorney Laurence Weiner said in a press release. "The City has consistently exercised every opportunity available to legally change Metro in this regard."
Metro's preferred route under BHHS connects directly to the center of Century City and produces the highest ridership projections; the alternate route along Santa Monica Blvd. placed the station adjacent to a golf course and along an earthquake fault, making it both inconvenient and unsafe.
Glenn Boghosian, father of Alexa '13 and Christina '16 and resident of Beverly Hills, said he supports tunneling under the high school.
"In the long run, I think a subway running through Beverly Hills would be beneficial to the city of Beverly Hills and to the County of Los Angeles as a whole," he said. "Sure, there would be inconvenience, but in the end all world-class cities have world-class transportation."