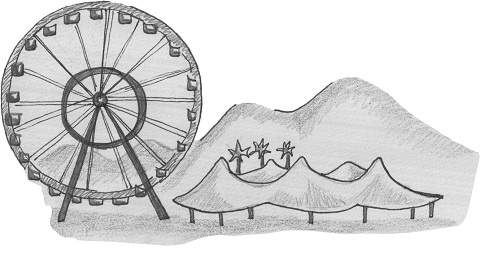 For the scores of students who will flock to the Coachella Valley Music and Arts Festival in Indio, California, this weekend, Apr. 12-13, or next weekend, Apr. 19-21, choosing which of the 178 artists who are performing to see can a difficult task! Here are The UltraViolet's suggestions for must-see concerts.
Earl Sweatshirt: Fri. 12:05
Hometown:   Los Angeles, CA
Sounds like:   2pac
Best singles to download:   "Chum" and "Woah"
Most recent album:   Sweatshirt will release his first album later this year and is currently featured on Tyler, the Creator's Wolf album.
Did you know:   Earl Sweatshirt is a rapper, songwriter, producer and collective member of the notorious LA hip-hop group, Odd Future. He performed on the track "Super Rich Kids" on Frank Ocean's critically acclaimed 2012 album channel ORANGE.
Maya says:   Sweatshirt encompasses the classic sound that makes Odd Future stand out amongst other esteemed rappers. He is making an impressive comeback on the music scene after spending over a year at boarding school in Samoa.
Pretty Lights: Sun. 7:45
Hometown:   Fort Collins, CO
Sounds like:   Ratatat, RJD2
Best singles to download:   "I Know The Truth," "So Bright," "Finally Moving"
Most recent album:   Glowing In the Darkest Night
Did you know:   Smith came up with the band name after seeing a Pink Floyd concert poster that said: "Come and watch the pretty lights!" Pretty Lights first performed at Coachella in 2010.
Maya says:   Pretty Lights' electric sound incorporates this glitchy vibe that will engage those of you who love electronic music, and Smith's soulful voice adds a soothing touch that everyone can enjoy.
Grimes: Sun. 4:15
Hometown:   Vancouver, Canada
Sounds like:   Purity Ring, Crystal Castles
Best singles to download: "Genesis" and "Oblivion"
Most recent album:   Visions
Did you know:   Grimes described her work in the June 2012 issue of W magazine as "ADD music." Grimes' ethereal, slow club music was influenced by a wide array of artists such as Marilyn Manson, Cocteau Twins, Beyoncé, Mariah Carey, Outkast, Nirvana, Drake and the Weeknd.
Maya says:    I've heard nothing but wonderful things about Grimes; she is definitely one to watch. Her music combines a 90's influence infused with more modern sounds.
Theophilus London: Sat. 1:20
Hometown:   Brooklyn, NY
Sounds like:   Dom Kennedy, Kid Cudi, N*E*R*D
Best singles to download:   "I Stand Alone," "Lovers Holiday," "Last Name London"
Most recent album:   Timez Are Weird These Days
Did you know:   London was born in Trinidad. His musical influences stem from renowned artists such as Michael Jackson, Prince, Kraftwerk and the Smiths.
Maya says:   London is fabulous. For all of you who have to constantly flip through your iPod shuffle to find just the right song, I can assure you his music—a combination of post-punk, electro and R&B—will always brighten and excite your mood. Be sure to also check out some of the delightful remixes!
Jake Bugg: Fri. 3:05
Hometown:   Nottingham, United Kingdom
Sounds like:   Bob Dylan
Best singles to download:   "Trouble Town," "Country Song," "Two Fingers," "Slide"
Most recent album:   Jake Bugg
Did you know:   Bugg has been writing and performing his own music since the very young age of 16. Bugg was mainly influenced by the Beatles, Johnny Cash, Donovan, Jimi Hendrix, Oasis and the Arctic Monkeys. Aside from his involvement in the music industry, recent tabloids say the 19 year old has been dating model Cara Delevingne.
Maya says:   My unconditional love for Jake Bugg's music and talent cannot be expressed. This is the most honorable type of artist, one that creates and truly means the words that he sings!
Tame Impala: Sun. 6:25
Hometown:   Perth, Australia
Sounds like:   John Lennon, Dr. Dog
Best singles to download:   "Desire to Be, Desire to Go," "Half Full Glass of Wine," "Elephant," "Feels Like We Only Go Backwards."
Most recent album:   Lonerism
Did you know:   Tame Impala is the first band to win the J Award for Australian album of the year twice, for both their debut album Innerspeak in 2010 and their follow-up Lonerism in 2012.
Maya says:   Tame Impala definitely succeeded in creating an alternative vibe that will enchant anyone who hears them. If anyone can truly be called "indie" after the terminology itself became mainstream, it's the members of Tame Impala, whose quirky alternative personalities penetrate their music.