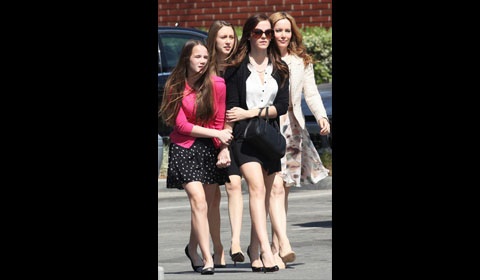 During the spring of 2012, while many girls studied for a Biology test or wrote an essay on Jane Eyre, Georgia '16 was filming The Bling Ring, which will come out in theatres nationwide in June and is directed by Sofia Coppola, the Oscar-winning screenwriter of 2003's Lost In Translation and the daughter of famed Godfather director Francis Ford Coppola.
In the film, Georgia plays Emily, the younger sister of Nicki, who is played by Emma Watson, best known for depicting Hermione in the Harry Potter series.
The Bling Ring refers to a group of wealthy teenagers from Calabasas who, in 2008 and 2009, robbed the Hollywood Hills homes of celebrities such as Paris Hilton, Lindsay Lohan, Audrina Patridge and Orlando Bloom, resulting in the theft of about $3 million in cash and belongings.
Journalist Nancy Jo Sales wrote an in-depth article about the members of the Bling Ring titled "The Suspects Wore Louboutins," which appeared in the March 2010 issue of Vanity Fair and provided the basis for both Coppola's movie and a 2011 TV movie on Lifetime.
Georgia's character begins the movie as an innocent 13-year-old who disapproves of her sister's inappropriate behavior. However, as the movie continues, she begins to side with her sister and even helps the teens break into a house.
Georgia participated in the Middle School play during 7th, 8th and now 9th Grade, as well as in the All-School Musical for the past two years. During the spring of 2012, Georgia was both filming The Bling Ring and attending rehearsals for The Arabian Nights Project, the 2011-2012 school year's Middle School play.
Performing arts instructor Gleason Bauer, who produced Arabian Nights, said that Georgia managed the movie, the play and her academic work diligently, giving each aspect of her life as much time and attention as she could. Bauer also said that after Georgia worked on The Bling Ring, her confidence on stage improved. "Over the course of [2012 All-School Musical] Avenue Q, I watched her more boldly investing herself in the choices that she was making," Bauer said.
Georgia's first acting job came at age seven, was when she was cast as a little girl beating a snare drum to serve as Mandate Pictures logo, which the company still uses. "[Posing for the logo] was really exciting because it was the first time I was acting in front of a group of people," Georgia said.
In 5th Grade, a few years later, Georgia got signed by United Talent Agency (UTA). However, her agents only brought her in for commercial auditions, which she said didn't interest her because she would rather portray stories than sell things.
Although she found the commercial auditions dull, they helped Georgia gain name recognition and secure an audition for The Bling Ring.
Because Georgia is used to performing on stage, she was a little intimidated at first by all of the cameras and men watching her audition and was ultimately glad that she didn't need to do anything personal or emotional in the movie, like kiss or cry.
"It was super secretive, probably because [Coppola] wanted to keep the script under wraps for as long as possible," Georgia said. "It was exciting to be on set, and be in that type of environment. It was nice to see how [Watson] and Leslie Mann work, and I was able to learn things from them."
Her overall excitement and passion for taking part in her first motion picture trumped her small worries, and at the end of shooting, Georgia said she decided that she wants to pursue acting as a profession.
"I know it can be a difficult career to follow, but I love acting and I hope I can continue doing it for the rest of my life," Georgia said.