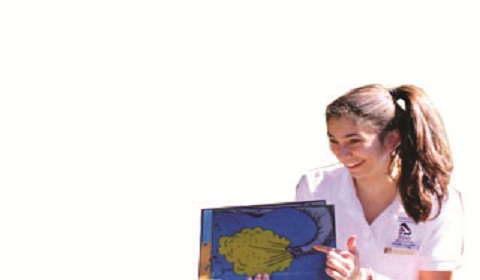 Due to her love of animals, Laura '15 started volunteering at the Los Angeles Zoo and Botanical Gardens on Jan. 27, 2013 and now works for nine hours on the first and third Sunday of every month sharing fun facts about the animals with visitors to the Zoo.
In order to become a certified zoo helper, Laura was required to take a 12-week class from early September to January, during which she and other high school sophomores entering the volunteer program learned facts about the animals in the exhibits, such as where they naturally live, what they eat and how to take care of them. The approximately 20 students who graduated from the preparatory class this year, including Laura, will also need to complete a minimum of 60 hours of volunteer time at the Zoo by the end of their sophomore years in order to continue the job next year.
Laura's mother, Ann, encouraged her daughter to send in an application to the LA Zoo student volunteer program.
"Ever since Laura was a little girl she has always loved animals. I remember her little collection of Beanie Babies that she would take care of as a kid."
Laura said she wants to become either a veterinarian or an exotic animal trainer, even though she currently only has one dog. Since the Los Angeles Zoo is far away from Laura's house in Tarzana, she has to get up early to get there, but Laura said she doesn't mind because she loves her job.
On a typical day of volunteering, Laura arrives at the zoo at 9:00 a.m., checks in, and then works at a rotating, assigned station, such as the Elephant Cart or the Meerkat Exhibit, until her lunch break.
"Sometimes people will come up to you and ask questions about the animals, but by far the most frequently asked question is where the nearest restroom is located," Laura said.
One of Laura's favorite exhibits is the Enviroscapes, where she informs people about the effects of pesticides on our environment, which she said she feels is an important message for young children.
Laura said one advantage of volunteering at the LA Zoo is that the professional zookeepers give her the inside scoop, such as which animals are pregnant or if and when the Zoo is acquiring new animals.
One of Laura's goals as a volunteer is to travel to a location outside of the US to watch animals and collect research through a program offered by the LA Zoo. She is also interested in another program, funded through Cornell University, which pays for volunteers to track exotic birds and send their data back to Cornell.
According to Laura, working at the LA Zoo has also taught her important time management skills.
"Volunteering takes up my entire Sunday, which I could spend doing homework," she said. "It is a good incentive to get my work finished early."
10 Facts About Zoo Animals:
Elephants have very sensitive feet, which are cushioned like a TempurPedic mattress to support their large body weight. The floors in the elephant exhibit at the zoo are heated because their feet are so sensitive.
The tapir has a bullet-shaped body so it can maneuver around tight spaces when running away from its predator, the jaguar.
An okapi is a large mammal with zebra-like stripes on its back legs meant to confuse predators. Interestingly enough, the okapi is related not to the zebra but to the giraffe.
The geremuk are the only type of deer that can stand on its hind legs, an adaptation they developed because they need to get the freshest and highest leaves in order to survive.
When flamingos gather shrimp to eat, their beaks act as a colander to filter out the excess water.
Colobus monkeys have a sacculated stomach with multiple chambers so they can digest leaves like a cow. A sacculated stomach allows animals to break down plant material.
While the rest of the clan is in their underground burrow, one meerkat will stay out and keep watch for hawks and other predatory birds.
California condors, which are birds that eat carcasses, have bald heads so that the bacteria that has accumulated in the dead body won't get caught in their feathers when they are eating.
The muntjac are the smallest species of deer. They have saber-like teeth instead of antlers like regular deer.
Turtles' spines are connected to their shells, so turtles can't physically leave their shells.