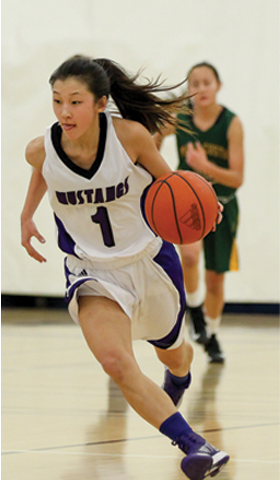 Lena '15 jumps into the air to grab the ball as it rebounds off the headboard, dodging the arms of several Marymount High School players, and sends the ball swishing through the basket just as the timer goes off, ending the game and raising the score to 49-32 in favor of the Mustangs.
On Feb. 5, the Varsity Basketball team capped off their undefeated season with a win against Marymount High School, to claim their third consecutive, and 13th overall, Sunshine League Championship title. The team went on to win the first round of California Interscholastic Federation Southern Section (CIF-SS) playoffs on Feb. 14 but ended the season after a loss to St. Bernard High School in the second round, on Feb. 16.
The Sunshine League championship game remained close throughout, with the score tied at 25-25 halfway through the third quarter. Only minutes later, Marlborough pulled ahead by seven points; they maintained their lead until the end of the game. According to Athletics Assistant and Assistant Varsity Basketball Coach Shaina Zaidi, the girls had expected to win, as they had previously beaten Marymount in a home game, but they started the game overconfident and with a lack of aggressive play.
"Once they snapped out of [that mindset] and started to be more aggressive and attack the basket and defend the basket, then that's how we were able to break away," she said, explaining that the team achieved its 17-point lead only after the girls started to approach the game differently. Clara '14 agreed that the team gained confidence and started working together after the second half of the game.
"We had the hope after we got [the score] up that [Marymount] couldn't stop us" she said.
Zaidi added that the team succeeded by moving quickly and playing strong defense. Because Marymount had several tall players, the Mustangs focused on boxing out, or preventing an opponent from getting a rebound by keeping her away from the basket. However, one Marymount player was able to score 13 free throws.
Zaidi and several players commented that Co-Captain Rachel '13 stood out in the game and played an instrumental role in the team's success; she scored 13 points, and her back-to-back steals in the second quarter advanced the score by four points. Many girls, however, noted that as they headed into playoffs, the team needed to work more on communication.
"We have to all give better effort and all be on the same page as to what we're doing," Murielle '14 said.
During the season, which began in November, the team practiced six days a week for two hours a day. Clara said that the members of the team keep each other spirited; before games the girls get into a huddle, put their arms around each other and sing a pump-up cheer.
"At home games we go into the locker rooms and yell really loud," Clara said. "[The team] is like a family."