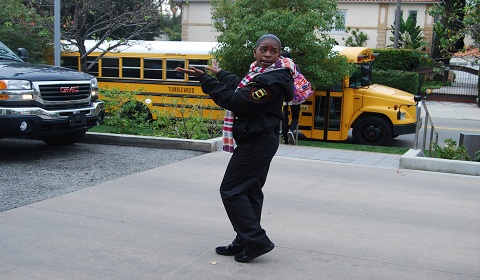 Two uniformed police officers, led by a Marlborough security guard, strut through the East Atrium. "Looks like they caught you," one girl jokes, poking her unamused friend.
Because of the increase in violence at schools across the country, especially the recent shooting at Sandy Hook Elementary School, Los Angeles Police Department officers began patrolling Los Angeles elementary and middle schools, including Marlborough, on Jan. 7.
The police officers will visit each public school and any private school that requests a patrol for at least 30 minutes each day. The officers are one of the several security changes Marlborough has seen since the end of winter break. It is unknown when the LAPD will stop making these rounds.
According to Chanelle Barrow, one of the security guards on campus, students have nothing to be worried about.
"It's just a precaution. We're extra vigilant," she said.
The School has taken several other precautions to ensure student safety, including the closing of the 3rd Street Entrance during school hours.
Barrow explained that this change was "so that no one will come in without security knowing."
Security guards have also been instructed to stand outside the gates instead of inside in an attempt to deter any potential violence at Marlborough.
"We're just aware and making our presence known," Barrow said.