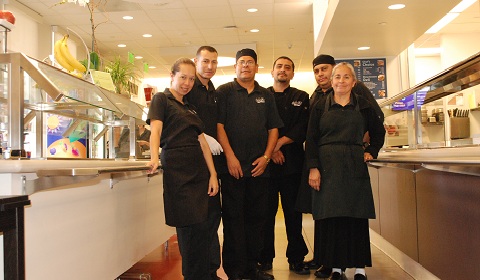 Café M is usually a whirlwind of students during lunch and break. You take a number, wait, receive your food, pay and walk out, relieved to be away from all the commotion.
But most girls don't realize what happens behind the scenes, where a hardworking group of men and women make it seem so seamless. Behind the aprons and hair nets, Café M's staff acts as families do: caring for and helping each other, spending time together and having fun.
"We get along very well," said Antonio Cendejas, who works on the grill. We're here eight hours a day, so we're like a second family away from home."
Over the years that the staff has worked here together, they have bonded and have really become closer. Nothing brings a family together like food, and the Café M staff is surrounded by food all day. Every family has a special dish or cuisine that they're most proud of, and this family's specialty is Mexican food, which is often served Wednesdays in the Café.
The staff said they are particularly proud of their tortilla soup, burritos and tostada bowl, which is a CulinArt recipe. The staff often adds their own recipes from home to the Mexican menu, including grill chef José Luis Morales' special salsa recipe.
The staff has said they love working together and wouldn't want to work with anyone else.
"I've always liked the people I've worked with. But these guys are much closer than others I've worked with," Head Chef Angel Guerro said.
Whenever one member has something going on in his or her personal life,the others support him or her and are there for him or her.
"When there is someone sick or something is going on in someone's personal life, we all care and we try to help," Head Chef's Assistant Nora Saldivar said.
Fun fact: José Luis Morales and Antonio Cendejas, both grill chefs, are actually related. Morales is Cendejas' uncle.
"[The staff] have fun together. They're able to enjoy each other's company and play around everyday. They make jokes about each other," Guerro said.
When asked who would be the dad, mom or the children, the staff overall thought that Carlos Rossel, the dishwasher, is a cousin; Saldivar is the mother; grill chefs Cendejas and Morales are brothers; Guerro is the father and Julia Prado, cashier, is the grandmother.
Many students said they agree that the staff of Café M act as a unit. Ally '16 eats at the Café everyday.
"They seem to care about each other a lot," she said.
Lucia '16, who also eats at the Café everyday, agreed.
"Café M seems like a family because they are really nice to each other and us," she said.