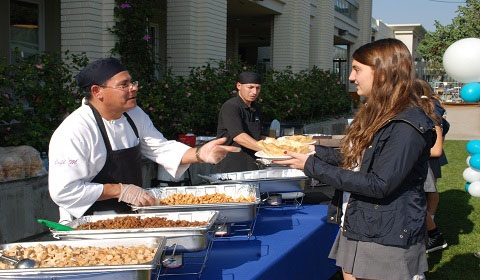 Two girls munch on their free tostadas as they pass a six-foot-tall balloon cactus wearing a sombrero and a colorful poncho.
On Dec. 7, Culinart, the company that provides all of the food for Café M, hosted a Mexican barbeque for the faculty and students on Booth Field to celebrate their third anniversary at Marlborough. Café M staff members began preparing for the feast three weeks in advance, making orders and planning the menu and how they were going to serve meals to so many people. According to Nora Saldavore, who works at Café M, serving around 600 people at the same time was one of the event's major challenges.
    "We have four stations of food, four stations of beverages and one for dessert, so that we can split the people and serve them at the same time," she explained.     Culinart served tostadas with rice, beans, lettuce and a choice of carne asada, chicken, barbecued pork or soy chicken. Several kinds of salsa, guacamole, sour cream and shredded cheese were also offered. As for refreshments, horchata, jamaica (hibiscus infused water), tamarindo (a drink made of boiled tamarind) and water were provided. Strawberry and lemon-flavored popsicles were distributed from the single dessert station in the middle of the field.     Students were very pleased with the Mexican barbeque. Mary-Helen '15 described the tostadas as "the tastiest things ever to exist" and buys them at Café M often.     "I thought the barbeque was super fun, because it was just a nice way to be able to slowly wind down at the end of the semester," she said.