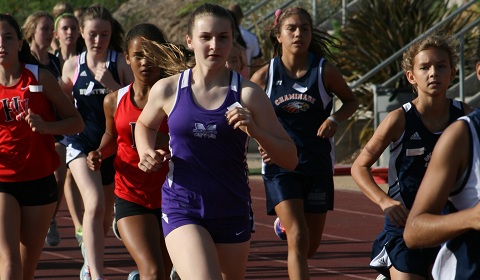 How would you like to run four to six miles everyday after School? Come home after practice sweaty and exhausted? Race under the hot sun against 100 or so girls every week?
Though many students might answer these questions with a resounding 'No,' the 7/8 Cross-Country team has become exceedingly popular this year, with 21 girls competing, up from ten last year.
"We encouraged anyone who is not doing a fall sport to run Cross Country if they like running or want to get in shape for Soccer or Basketball, and this year a lot of kids took us up on it," Coordinator of Athletics and Physical Education Department Head Julie Napoleon said, explaining why the team was so large this year.
7/8 Cross-Country Coach and science instructor Jay Buckley suggests that the inherent nature of the sport makes it popular. "Running is probably one of the easiest and least expensive sports there are out there. You can do it anywhere, anytime," he said. One of the major draws of running Cross Country is that it provides a great opportunity to exercise and improve your health.
"[Running Cross Country] helps to build a strong heart and lungs and cardiovascular system," Buckley said, explaining that the more girls participate, the better.
Runner Liz '17 said that having more people on the team also means a larger support system and cheering squad.
"We're like one big family, all running Cross Country together" she said. When it comes to team spirit, the girls and coaches said that having more people is nothing but a plus.
"[The runners] encourage each other. The more the merrier!" Napoleon said.
However, having more people on the team has does have some drawbacks. For example, with so many girls involved, the girls say the two coaches — Buckley and English instructor Jessica Chaintreuil — are often spread thin.
"Sometimes you don't get as much individual help and attention [as you would on a smaller team]" Liz said. The influx of girls has also caused a logistical problem for practices at off-campus locations. The standard mode of transportation, the School-owned Suburbans, only seat eight. With 21 runners and only two coaches as drivers, going any further than close walking distance for practices on a regular basis is out of the question, whereas in past years the team has practiced at different locations, namely Griffith and Pan Pacific Park.
"Typical practices are close to School instead of going over to Griffith Park," Buckley said. However, most competitions take place on courses with uneven terrain and lots of inclines, while the areas close to Marlborough are mostly very flat and concrete. The coaches and the Athletics Department have worked to find solutions; Napoleon explained that the team has enlisted the help of other adults to help drive on some days. Once the School even hired a bus.
In Junior High Delphic League-wide meets, the team averaged 3rd or 4th place, a ranking calculated by adding the place of the the first five runners from each team to cross the finish line and comparing those scores to other teams; the lower the final score, the better the team. The season culminated in a final meet at Pierce College on Nov. 2. Marlborough finished in third place.