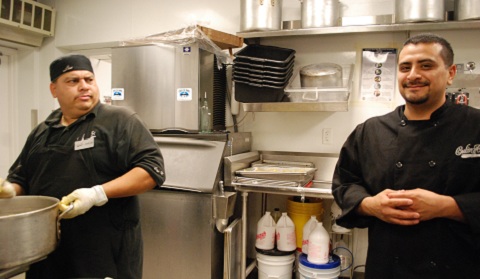 Soft on the outside. Crisp and cold on the inside. A pop of flavor in the middle. All wrapped neatly in brown paper, a present waiting to be opened, ready to go with you to your next class.
When buying lunch from Café M, how many times have you barely glanced at the wraps and then bought from the counter without a second thought? On many occasions, girls buy one of the Quick Picks only when the line is so long they can barely get into the Café and are too hungry to wait. Though the wraps are easy to forget about, they are really the perfect lunch: quick, delicious, healthy and easy to eat.
On Tuesday, Oct. 30, this reporter went behind the scenes of Café M to find out how Head Chef Angel Guerro and the rest of the Café M staff make the wraps and other delicacies served every day for lunch.
Every Monday morning about 300 pounds of chicken, 60 pounds of beef and 600 pounds of produce arrive at Marlborough by truck. The food is stored in the large walk-in fridge in Café M's kitchen. All of the meat in Café M comes from Sysco, a quality food supplier that gets meat from local farms. All of the fresh fruits and vegetables come from V&V Produce, which also deals primarily with local farms. Café M posts information about its suppliers on the walls around the Café, which makes for great reading if you have foolishly avoided the wraps and are waiting in line.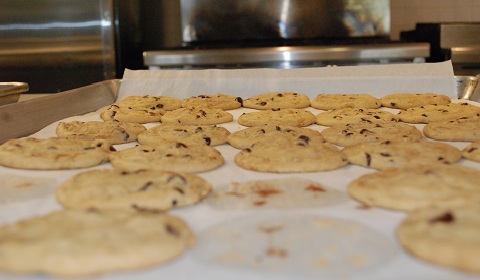 After the raw ingredients are delivered on Monday, the chefs meet to decide what they are going to make for the week.
"We just come up with different ideas," Guerro said. "José [Luis Morales] is pretty good at doing that. He'll see what he has in the back and he'll just make something up on that day."
The wraps, along with all of the other food served at Café M, represent Marlborough's desire to offer healthy food for students and staff.
According to Guerro, Café M strives to make its meals as sustainable as possible and avoids using processed foods.
"Little by little we are making everything here. The fries are fresh made here," he said. About ninety percent of all of the food is made in the Café. They also serve seasonal foods whenever they can to ensure to foods are fresh and locally grown.
Everyday food for about 300 girls is prepared, and although everything is usually consumed, leftover food is given to the Covenant House, which is a non-profit organization that serves homeless youth.
All of the food in the Café is brought to us by CulinArt, which is the second largest food service company in the United States and has been working with Marlborough for the past three years.
CulinArt has a program called EatWell, which makes sure the Café is always serving a 500-calorie meal and a vegetarian option. Wraps are one of the many items that are part of the EatWell program.
On Oct 30, Noelia Santiago, one of the kitchen staff, started with whole-grain tortillas and added whole leaves of crispy green lettuce and bright red tomato slices. Because she was making veggie wraps, she added grilled onions, peppers, zucchini and feta cheese. Then she rolled the wrap, tucking in the ends, wrapped it in paper and cut it in half. She put both halves, along with extra lettuce and grapes, in a container made from corn products. Other wraps, such as soy bacon, soy chicken, real chicken and turkey, had also been made earlier in the day to prepare for the lunchtime rush. Anywhere from 10 to 30 different Quick Picks are made every day, depending on what else is being served for lunch.
So now that you know about these tasty wraps maybe you'll quickly pick one up for lunch!