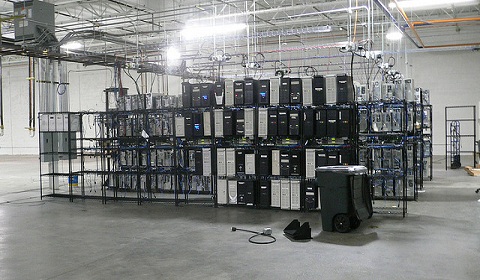 At Marlborough, we sometimes take our speedy Internet connection, the infinite amount of space for documents on computers in the Mac and PC Labs, and the regular updates to the latest software for granted, but all of those things could instantly disappear without the Marlborough server room. Most of us don't even know this mysterious room exists hidden in the depths of Munger Hall, next to the lost and found, but this reporter got to attend a special tour of the room on Nov. 13.
Once you open up the doors to the lost and found, the server room is concealed by trash cans and boxes and protected by an intimidating lock, because if someone got into the room and the equipment crashed, all of the computers on campus would suddenly stop working.
The server room is about half as big as the Mac Lab and contains rack after rack of computer hard drives and tangled wires for Internet connections. It also has sixteen different generators, so that in case of a power outage, Marlborough students and teachers would still be able to use the School computers for about two hours.
The two air conditioning units in the server room are running constantly and are designated only to that room. They ensure that the devices do not get overheated, because according to Director of Administrative and Academic Technology Stuart Posin, the heat in the server room could reach 110° without AC!
Posin supervises technology in the ARC and works very hard to make sure that it runs consistently, keeping us happy with constant Internet access and tech support.
The server room is truly the core of our School.