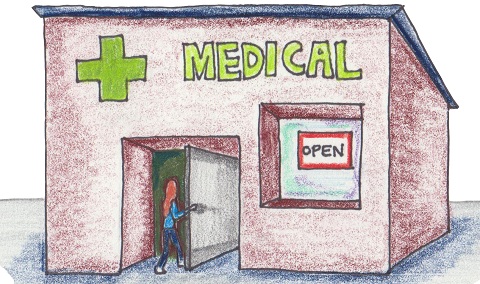 By: Isabel '14 and Neidin '14
As Michael*, a junior at New Roads School, prepares to pull into the parking lot of one his favorite medical marijuana dispensaries in Los Angeles, he notices plywood boards covering the windows and a padlock chain wrapped around the door handles. He remembers something his friend told him last week about federal raids on local dispensaries and concludes the shop has been shut down. Michael speeds off angrily because he had been hoping not only to pick up some weed for himself but also to buy enough to sell to other teens at the party he was going to later that night.
A law enacted at the end of July by the LA City Council which would have forced 1,000 local medical marijuana dispensaries to shut down was repealed on Oct. 22 after 50,000 people signed a petition appealing for the issue to be put to popular vote. Such a vote was not necessary, however, as the City Council soon voted to retract the ban, 11 to 2. However, the city began allowing federal Drug Enforcement Administration (DEA) agents to raid local dispensaries in late August when it became clear the July ban would not be enough to curtail Los Angeles' flourishing but barely regulated marijuana industry.
Over the last two decades, 18 states and Washington D.C. have violated federal law by authorizing the medical use of marijuana, and on Nov. 6 voters in Colorado and Washington chose to widen the gap between federal and state law by authorizing the recreational use of marijuana.
Although the federal government designates marijuana a Schedule 1 substance, state governments hope legalization and regulation will increase community safety and decrease the frequency with which citizens resort to nefarious means to obtain the drug.
Teens, specifically those who attend independent schools in LA and smoke marijuana, mostly smoke weed that comes from friends who have obtained prescriptions, sometimes illegally, to buy from a dispensary. But will the recent crackdown on medical marijuana lead students under 18 to smoke less or to acquire drugs from unsafe sources? How can a substance be regulated under the pretense of being a medicine on the state level when its medicinal value is not recognized by the federal government? Is marijuana a dangerous threat to society, a helpful, pain-relieving medicine or a harmless recreational drug?
LET'S GET FEDERAL
In 1996, Proposition 215, otherwise known as the Compassionate Care Act, legalized the use of marijuana for physical ailments including but not limited to chronic headaches, arthritis and certain types of cancer, making California the first state to put itself at odds with the federal government over the sanctioning of medical marijuana.
Under the Controlled Substance Act of 1970, marijuana is federally banned and listed as a Schedule 1 drug, meaning it has no medicinal value and a high potential for abuse. However, strict constructionist legal scholars argue that Article 1 Section 8 of the Constitution, which enumerates the powers of Congress, states that the federal government can regulate interstate commerce of substances but cannot ban them outright. Some states therefore argue that they should be granted the power to regulate marijuana themselves.
In an attempt to balance this federal-state conflict, President Barack Obama pledged in his 2008 campaign to work with the Justice Department to avoid shutting down dispensaries in states that protect the sale of medical cannabis. Despite this promise, federal raids by the DEA across California this past fall have affected stores in areas such as Oakland, Orange County and Downtown Los Angeles, and more than fifty dispensaries have been warned that they are being targeted by federal officers.
Gina Munday owns Green Heart, a dispensary located in Mount Shasta, California. She told redding.com that DEA officers "broke all the windows, vandalized the inside of the building and took all of the medicine" in a September raid. This is just one of many reported instances of DEA violence attempting to drive dispensaries out of business. Others accounts include armed officers breaking down shop doors, handcuffing patients and taking possession of the store's money and marijuana.
Despite the threat of DEA violence, dispensaries remain optimistic about the future. Several medical marijuana specialists noted the impossibility of the task ahead of the DEA officers in effectively policing all of California's dispensaries.
"What are they going to do?" asked James Anthony, a lawyer who defends the use of medical marijuana. "Have drones fly over Downtown, roll tanks through West Hollywood? It is ridiculous. Do you know what's not ridiculous? Rational and reasonable regulations for medical cannabis. Is that really too much to ask for?"
With between 450 and 1,000 dispensaries located in the city of LA, even the US Attorney's Office admitted to the immensity of the task. "We couldn't do all of LA at once," office spokesman Thom Mrozek told the Los Angeles Times. "There's just too many stores."
The discrepancy among different sources about the number of dispensaries in Los Angeles exemplifies the lack of marijuana regulation in the city; official counts range from 472 in a UCLA study to 762 in the The Miami Herald and as many as 1,000 in The New York Times.
STONER NATION
Because of the ease with which both teenagers and adults can obtain medical marijuana cards and the fact that the majority of people with cards use marijuana recreationally rather than medically, many people argue that the substance should be sanctioned completely for both recreational and medical uses.
Jacob, a Windward School alumnus who graduated in 2012, said he supports the full legalization of marijuana. "I don't believe it matters whether you take it to ease cancer pain or to sleep easier at night. I don't think they should discriminate based on what you need it for. Who is to say that one person's need is more worthy than someone else's? If you are taking it for emotional reasons, it's just as valid as someone taking it for medical or physical reasons."
Advocates argue that legalization of marijuana would additionally provide a safe and dependable means of obtaining the substance. The recent federal raids across the city have caused teenagers fear that fewer dispensaries will make marijuana consumption more dangerous and will lead students to come into contact with gang members or other dubious persons.
Jacob, for example, said he does not believe the federal raids will help anyone.
"All of this s*** about raids and shutting down shops is going to backfire," he said. "All it's gonna do is force people to get sketch weed from sketch people. It is so much better to just regulate it and provide a safe way for people to get weed."
However, those who oppose the legalization of recreational marijuana argue that sanctioning could produce a more addicted nation. In an interview with NPR, Tony Dokoupil, who wrote the Oct. 22 Newsweek article "The New Pot Barons," correlated the marijuana legalization movement with those that preceded the authorization of recreational tobacco and alcohol use. "The problem with [mimicking the paths of tobacco and alcohol legalization] is that 80 percent of the profits tobacco companies and alcohol companies make comes from heavy users," Dokoupil said. "The business model is based on people consuming more than they should. And so there's a strong economic incentive for big marijuana companies to create as much addiction as possible."
DOCS PRESCRIBE HIGH TIMES
Most of the weed smoked by independent school students in Los Angeles comes from medical marijuana dispensaries, as teens with prescriptions often sell weed on the side to friends and friends of friends. Although possession of up to an ounce of marijuana without a prescription only warrants a $100 to $500 fine, what many teenagers do not know is that the sale and distribution of marijuana is a felony, punishable by up to seven years in jail. Though there are no age restrictions for obtaining cards in California, minors must have parent permission as well as a medical recommendation to be eligible to receive a medical marijuana prescription.
Sam, a former student at Loyola High School, got a card shortly after his 18th birthday but has been smoking weed since he was 15. "I would always buy pot from other friends who had cards, so I always knew it was safe," he said.
According to the 2011 "Monitoring the Future" survey released by the National Institute on Drug Abuse, 1 in 15 high school seniors in the US smokes pot daily. Even though a majority of teens do not smoke pot on a regular basis, 40% will have tried it at least once before graduating high school.
Teenagers are also able avoid telling their parents about their desire to acquire marijuana by forging their signatures.
Some kids, such as Michael, opted for a different route: "I knew my parents would never agree to it, so instead I got a fake ID and put the club card under my fake name." Once Michael had ID saying he was over 18, he made an appointment with a doctor who specialized in medical marijuana. "I just told him I needed it for insomnia and he wrote me the prescription."
For several years before he got his card, Michael said he bought most of his pot from an older friend who had a card and also dealt on the side. He said he prefers having his own card, however, and buying directly from a dispensary.
"Buying from a dispensary is much safer [than buying from a dealer]. The weed comes from professional growers up north in California. And there is so much more variety. It's like a candy shop for weed."
When asked whether or not he deals as well, Michael said, "Definitely. As do 100% of the kids I know with club cards."
Michael estimates that he makes about $1,200 a month from dealing pot almost exclusively to high school kids who go to independent or charter schools such as Windward School, Palisades Charter High School and Marlborough School.
Had the proposed ban on local dispensaries gone into effect, it would have been increasingly difficult for high school teens to safely get their hands on marijuana. "Kids aren't going to stop smoking weed. The only thing [the ban] would have done is stop kids from smoking stuff they knew was, like, pure and unadulterated," Michael said.
*Names have been changed for all sources without last names.