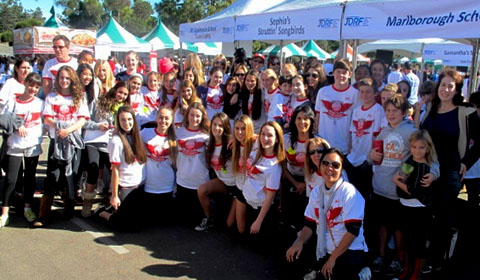 Sophia '18, who was diagnosed with Type 1 diabetes at age four, and her sister Anna '15  recruited around 20 Marlborough students to participate in the Juvenile Diabetes Research Foundation Walk to Cure Diabetes on Nov.11 from 9 a.m. – 12:30 p.m. at Dodger Stadium.
The girls started their team, Sophia's Struttin' Songbirds, when Sophia was diagnosed and have since raised $250,000 with the help of friends and family.
Anna has encouraged Marlborough student participation in the Diabetes Walk since her 7th Grade year. To raise awareness about the walk, Anna and Sophia spread the word through emails and letters to their friends and family and announce the walk every year at each grade's class meeting. The event entails a 4K walk around Dodger Stadium, booths for each team and a chance to meet with celebrities.
"I remember when I was super obsessed with the Jonas Brothers years ago and they came since Nick has diabetes," Anna '18 recalled. "I didn't get the chance to meet them so I cried."