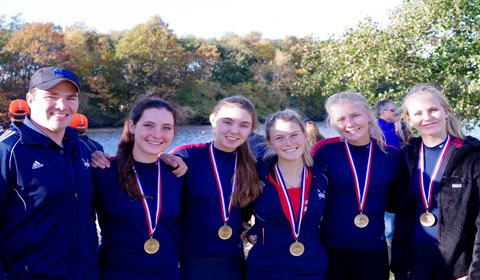 Genevieve '14's boat with the Marina Aquatic Center (MAC) won first place out of 85 competing boats in the Head of the Charles Regatta in Boston on Oct. 20 and Oct. 21. She competed in the Women's Junior Varsity 4+, which consists of four female rowers and one coxswain, who doesn't row but encourages and directs the team.
Genevieve has been rowing with MAC for five years. Several other Marlborough girls row at MAC as well, but Genevieve was the only one to go to the competition since she is the only one from Marlborough who won the "seat race," which involves girls in the club racing against each other for a spot in the competition.  Genevieve had to miss School to fly to Boston.
Marlborough School has had a long-standing relationship with MAC, so much so that several parents sought a way to express their thanks to the club and paid for a new boat named after Head of School Barbara Wagner.
"It was really bizarre," Genevieve '14 said.
Genevieve rowed not in "Barbara Wagner" but instead in a boat called "Shelly K."  However getting her boat across the country to the competition was a bit tricky.
"This crazy, insane guy drives the boats every year from LA to Boston in five days. It's really amazing," she said.