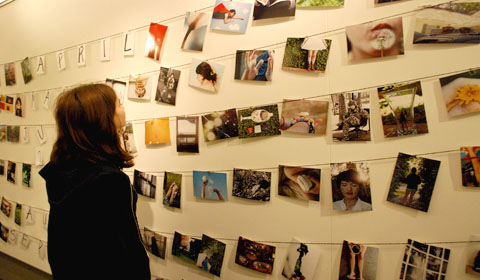 The annual Senioritis art show featuring work from the Class of 2013 is on display from Oct. 15 to Nov. 2 in Seaver Gallery. The show pays special tribute to seniors by showcasing photography, metals, drawing, painting and ceramics.
Ariela '13 has taken photography classes at Marlborough since 9th Grade, and Senioritis exhibits her latest piece: a collection of 366 photos taken over the past year. This project began in October 2011, when Ariela started taking one photo every day and posting it on her blog. All 366 photos (counting Leap Day) are displayed in the Seaver Gallery entrance hallway.
Ariela decided to start this project when she was taking AP Photography to encourage constant creativity and expression. "I had this routine where I would go straight to [Drama Ensemble] rehearsal, come home, then do homework and never had any time for myself, so this project became my time for rest and an outlet for me," she explained.
The senior also said that the year-long project ensured she would always have enough pictures to fulfill her AP Photography assignments.
Check out the Senioritis art show, including Ariela's photography, in Seaver Gallery before Nov 2.