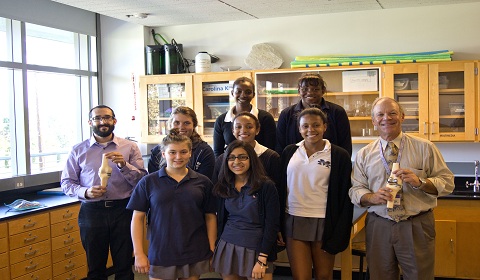 Dr. Jack Tauber, an orthopedic surgeon and father of Lauryn '17 and Alyx '15, came to campus on Oct. 3 to talk to students about working at Glendale Adventist Medical Center's new $900,000 knee replacement robot.
Tauber discussed various approaches to knee surgery and explained how the robot boosts the accuracy and success rate of the operation. Although the robot increases efficiency, a certain degree of practice and skill is required to use the machinery and Tauber emphasized that there is "no substitute for experience."
Dr. Tauber helped students understand that robots have practical uses in the medical field. Many members of the School robotics club attended the doctor's lecture to learn morea bout the engineering aspect of the invention.
"As a team that mostly sees robots in the context of the competition, it was really good to see the real world applications of a robot," Science instructor Andrew Witman said.
Some students who attended the afternoon seminar said they are now even more interested in pursuing engineering careers.
"I've kind of been interested in doing something in engineering in the future so Dr. Tauber coming made me realize that this is actually something I really want to do," Shalena '14 said.